How to become an international house sitter in 2021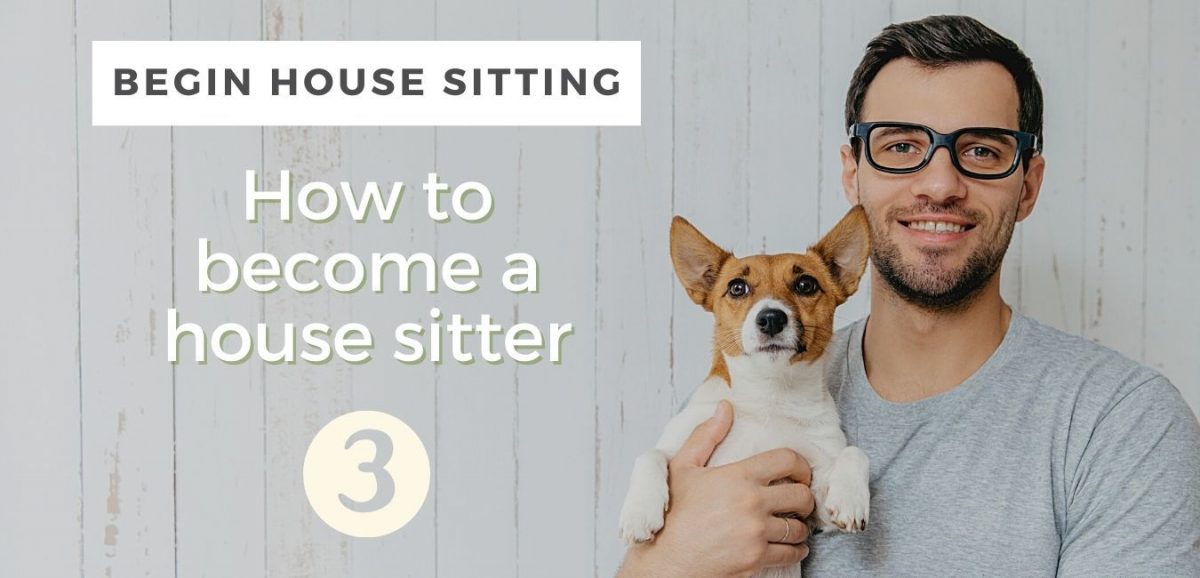 Table of Contents (click here to expand / collapse)
Difference between local and international house sits
Local sits may be where you've focused your attention to establish whether house sitting is the right choice for you. You'll probably have built up some house sit experience, developed your skills and got some good references or house sit reviews to add to your credibility. As a local sitter there's also a possibility you have been paid for some of your services as part of a business.

The main thing about domestic house sits is that everything will likely be familiar to you. The types of homes, the culture, the climate and the way that pets are treated and socialised in the local community. It's a good way to get started.
And, if you've been house sitting locally, you might now be ready to broaden your horizons, but perhaps aren't quite sure how to get started in the international house sitting scene. We define "international" as meaning house sits outside your home country.
As a newbie to house sitting, international house sits may be your primary aim from the outset, allowing you to travel overseas, experience new locations, different cultures and all that slow travel has to offer.

This guide is part 3 of our house sitting series for beginners and will be a valuable resource not only for international, but also for local sitters beginning their house sitting journey.
Whichever way you are approaching international house sitting, there are some things you'll need to know about house sitting in other countries, that might impact your choice of destination and the type of house sits you apply for. One things for sure.. this is where flexibility and adaptability come into play.
A comprehensive guide to house sitting abroad
We hope this in-depth house sitting guide will explain what is involved so that you can make a balanced decision about whether international house sits will work for you.
It can be a little daunting when first applying for and organizing the logistics of house sitting abroad, and some careful research will be required, but keep your mind focused on the end result - we can pretty much guarantee it will be worth it! And the more research and preparation you do, the less likely it is that anything will go wrong.
A lot of the information will depend on your country of origin and where you decide to go. For instance, an American going to Canada won't experience so many unknown cultural differences, whereas a Brit heading to Mexico is likely to encounter many!
There are, however, a lot more things to consider about house sitting, besides culture. You'll need to carefully assess the costs involved. Not just living expenses, but visas, tourist taxes, flights, internal travel, medical and travel insurance, etc. You might also need to understand how the Schengen Visa works if you are traveling to Europe.
1. Are you cut out for international house sitting?
We've been house sitting internationally for almost a decade and we take our house sit "job" very seriously. The pets are always our primary concern, but we also aim to leave the property in the same, but often a better condition, than when we arrived.
The pet routines must remain the same and that can mean adapting our day, getting up earlier than normal, taking dogs on multiple walks, washing and grooming, to name just a few duties - so house sitting isn't for everyone. Sometimes just living in an unfamiliar environment creates unpredictable challenges - we thrive on this, while others can find it an uncomfortable way to live.
This is a good read if you want to look more deeply into what the life of a house sitter looks like - "The reality of the house sitting travel lifestyle".
2. Will I get paid as an international house sitter?
If you've been used to house or pet sitting locally and charging for your services, you'll immediately notice a difference when looking at house sits that are advertised internationally.
Most international house sitters do NOT charge for house and pet sitting.
Instead they provide a valued service to pet and property owners, in return for free accommodation. This exchange is built around trust, not money. It's a concept that's at the heart of the international house sitting industry.
There's actually a very practical reason for this too. In most overseas countries it would be considered as "work" if you take payment for house sitting services. And... this would mean you'd need to apply for a work visa, often much more difficult to obtain than a standard tourist visa. So it's easier for everyone if money doesn't pass hands.
When passing through immigration you can honestly say you're on vacation, traveling, retired or visiting friends. To avoid complications, don't mention house sitting, even if you are doing it for free.
In Australia, America, the UK and other countries too it's common to hear of people charging. But usually these people run pet sitting businesses offering a range of pet care services, like dog walking, grooming etc.
It's a very different scenario when you charge someone for a service. This is when business regulations, liability insurance, taxation etc., all come into play.
The trust based exchange is, in our opinion, the best way to enjoy the house sitting lifestyle. We have experienced amazing generosity through this house sitting model, and love that we get to help others enjoy their own travel adventures too. Most homeowners realize how much they save in boarding and kennel fees - and so you'll frequently find a special treat as part of the hand-over or hand-back!
Are utilities paid for when house sitting?
In most cases the answer will be yes, but occasionally home-owners restrict use of air-conditioning, or ask you to pay over and above their usual monthly usage. For an off-grid property powered by generator, you may find fuel use is capped too. We've seen this more often when long term house sits are involved or when home owners have had their air-con over-used, which is very expensive in some expat regions. This is something you should agree on at the outset so there are no surprises.
But generally, if you are offering your services as part of a trust based exchange, the utilities, heating fuel, water, WiFi, and even any contracted cleaning services, will be included.
WiFi and internet
Check that WiFi and internet packages are included if you work remotely. Is the package unlimited? If satellite internet is the only option, expect to be frustrated a lot of the time. Unless the home owners are running a business and have paid for an expensive high speed connection, it is likely to be slow and occasionally non-existent. If you work from home remotely, this is something you will need to consider carefully. You can ask the home owners to check upload and download speeds as part of your application process.
Will the home owner pay my travel expenses?
This is another common question, and I think we've only once ever heard of travel being paid for and that was in an emergency sit situation. It's your responsibility to get to and from the house sit, which is why we often get a little peeved when the media and inexperienced bloggers promote house sitting as "free" travel.
You know, in some cases it can cost more in air flights to travel to a house sit, because you are not purchasing a "package deal", and sometimes need to purchase high-season, full price flights to get to your sit on the date required. It need careful planning, as does all of your travel expenses.
There's more on budgeting below, but a good tip is to pick a country and then remain in a region where it's easy to book with budget airlines, or take bus, coach or rail travel between countries and sits. We've done this very successfully, keeping to one continent most years with just one more expensive long-haul flight.
3. Visas for house sitting and onward flight tickets
One of your first house sitting considerations when visiting a foreign country as a house sitter, should be to check if a travel visa is required, and for how long it will remain valid. You need to make sure you can cover the full length of your house sit or sits.
Tourist visas for house sits
Many countries offer tourist visas as you enter immigration, but for others you may have to apply in advance for a valid travel visa. The USA, Australia, Canada and some others offer the options of an electronic travel authorization (ETA), which is usually obtained online.
Contact the embassy in your own and the country you are entering, to find out what is available for you and exactly how many days you can remain. Overstaying can result in deportation, hefty fines or worse.
In some countries, it's quite a simple process to leave and re-enter to renew a travel visa, but always make sure you have the most up-to-date information. We were able to extend our stay in the Caribbean, but we needed a local resident to "sponsor" us for the extension. These are all things to think about on longer term house sits.
This is one situation where we DON'T advise taking advice from friends, forums or Facebook groups. Always check your eligibility for travel before traveling or accepting a sit so you don't end up being unable to fulfill your obligation. Immigration rules can change without notice, so stay on top of this right up to the moment you travel.
Never accept an international assignment that is longer than the visa you are able to obtain.
Brexit Update: From 31st December 2020 the UK has left the European Union and freedom to travel in Europe has changed for British citizens. For stays of over 90 days a visa may be required. For more information check the UK Government Website.
Student visas and working holiday visas
There are other types of visas available for younger students, volunteers and in some cases a working holiday visa.
If you are going to be working while house sitting or studying, you will need to obtain the appropriate visa. Get on to this as soon as you can as sometimes, non standard visas take much longer to obtain with a more involved application process.
Visa checklist for house sitting
Check what documentation you'll need to accompany your application, and whether any of this will be needed for an extension. A good tip when traveling internationally, is to make both digital and paper copies of anything you might need, such as birth and marriage certificates, proof of funds, etc. Anything that may be needed while you are away from home or that if stolen or lost would prove something of a headache!
It's common for any country to require at least 6 months (sometimes more) before expiration on either the entry or leaving date, and some countries require a particular number of clear, un-stamped empty pages in you passport. Again do your research on official government websites.
Do you need a visa?
What type of visa do you need?
How long will it last?
How easy is it to renew, if at all?
Can you renew while in the country and will you need a sponsor?
How many times can you enter the country on a single visa?
Can you get a multiple entry visa, if necessary?
How much will all this cost?
Important - We can't stress enough, that for ANY type of visa, always consult the most up-to-date information from the relevant government website - don't get caught out by getting bad, unofficial advice. UK citizens should check changes to European travel following Brexit.
Covid-19 has the potential to cause further complications to international travel and it's vital you find out what visa restrictions may be in place. It's quite possible that visas may be on hold for some citizens of certain countries where case rates are high.
Onward flight tickets when house sitting
It's becoming more and more common to have to show your booked and confirmed onward flight tickets, and a bus ticket now in some countries, simply won't cut it! Believe it we know - having been stuck on the Costa Rica and Panama border when the regulations changed unexpectedly! The best place to check this, is with the airline company. If you ask friends or family you'll no doubt get conflicting reports.
3. Getting to and from a house sit
Consider how you will get to and from the house sit, or from one house sit to another. Some very generous home owners will come and collect you, but this shouldn't be expected. A lot will depend on the country, location and length of sit. If you are close to a city you might be expected to use public transport or taxis to find your own way to the sit. This can be expensive.
If you are traveling to a remote, tropical location, access could be difficult and more challenging, especially if it's an unfamiliar destination. Make sure you map out your route before leaving home. We use google maps but prefer off-line downloadable maps from maps.me - we love that you can also personalize the maps with your own discoveries and routes that haven't been logged. Rome2Rio.com can also help in showing you what modes of public transport are available to plan your trip if necessary.
Some other considerations:
Will you need to hire a car?
Do you need an international driving license or driving permit?
Is their an adequate and safe public transport system in your country of choice?
Does it run all year round, including low-season?
How much will it cost you to get from the point of entry to the house sit?
Is a car included, what type/condition, and how will insurance be handled?
Does the vehicle have breakdown cover?
How easy is it to drive... what condition are the roads, what side of the road?
Is it safe to drive? Your home owners will probably be able to help with this question.
How much will fuel cost locally?
A remote off-grid house sit might sound like a wonderful experience, but if you can't easily get to the shops for food, vets, emergencies, it might be less appealing. While house sitting in Bocas del Toro, in Panama, our only mode of transport was a small panga boat in daylight hours. We shopped for food every 10 days!
Local driving law - Rules and regulations
If you are going to be driving, it's a good idea to research the local driving regulations, laws and penalties. Find out about seat-belt laws, speed limits, use of horns, drinking driving limits, whether you need to carry your insurance and licence documentation. Sadly in some countries where corruption is still rife, a "tourist" is an easy target for a fine or penalty. Don't take that risk.
Car insurance when house sitting
This can vary from country to country and again will require some research. In Australia for instance, the car is insured, not the person, which makes it much easier to drive as a visitor. This can depend on the policy so don't assume this to always be the case. In the UK the person is insured and so it's much harder, and more expensive to insure a visiting house-sitter from another country.
If you are able to drive the home owner's vehicle with valid insurance, we always suggest they write you a letter to keep in the car, showing that you are authorized to drive it.
Also check the excess payments on the insurance policy (sometimes known as "deductibles" in the Americas) - this holds for home owner insurance or car hire insurance.
4. Other important pre-sit information
Travel vaccinations for house sits
Check online to see if you need vaccinations or malaria medication. For some countries these are mandatory and entry will be prohibited without proper certification. Make sure you leave enough time between jabs and your intended travel date. With Yellow Fever, for instance, you need to allow for 10 days after the vaccine is administered. You'll find that vaccinations can vary in price considerably, depending on where you get them.
Covid Testing
Do you need to be tested before travel? Check the Covid testing parameters for the country you are entering. Not all tests are accepted in every situation. Make sure you are tested within the timelines indicated. If you are flying the airline should be able to advise. This could involve an extra cost that you may need to factor into your house sitting budget. If, as we've found in the early months of 2021, the homeowners need to get tested before travelling, you will need to factor this in, and have a backup plan should their travel be refused.
Seasons and climate
Home owners frequently leave their properties and pets to visit family and friends, or to travel, during the low-season. This is often when extreme hot or cold weather occurs. It might also be the monsoon, hurricane or cyclone season, or a time when there's a higher risk of forest or wild fires.
Do your research and make sure you're comfortable (and qualified) to deal with these conditions should they arise. Can you handle hot weather? 30+ degrees Celsius in a humid tropical location is fine with a pool and air-conditioning, but if you're not used to relentless heat and there's only a fan, it's a very different story! If you are house sitting alone, could you handle fixing hurricane shutters to a property? Think risk assessment and how you would cope with different situations.
House sitting off-season in a tourist resort may suit some, but others will feel let down by the lack of available (open) facilities and that there are fewer people to interact with.
Environment
Is your final destination at altitude? Living at high altitude can be problematic and a challenge for some people, and it's easy to overlook the height of an inland destination in a country that's unfamiliar.
Tropical jungle, African desert, island bliss, beach and sea - You can experience it all, but remember a holiday is very different to living in an exotic destination. Bugs are blitzed in upscale hotels, but not always in expat homes.
Consider cultural differences, extreme weather conditions, accessibility, driving on the opposite side of the road, daily house sitting chores, snow clearing, gardening duties, location of shops, special dietary needs, insects, spiders, noisy frogs, howling dogs, monkeys, and so on.
Even a country like Australia can be a cultural and environmental challenge. If this is somewhere you are thinking of house sitting, you might want to take a read of our comprehensive guide to house sitting in Australia.
Interview questions tend to increase dramatically when you begin house sitting internationally - especially in exotic or remote locations!
Language considerations
Traveling to a tourist location for a vacation, is very different to living in a community full of foreign speaking nationals, especially if you need to get something fixed at the property, or want to actively socialize within the local community. Ask the homeowner about this, and find out if you're likely to feel isolated if you can't speak the local lingo.
On the other hand, this is a great opportunity to learn a new language.
If you do have a language other than English it will be certainly be considered an asset to many home owners (depending on where you are!). So make this a key element of your house sitting profile!
At the very least, try and learn a few words or phrases that you might need when traveling, shopping, eating or dealing with emergencies. Particularly think of questions like "where is the closest vet?"
6. Hidden costs of international house sitting
We mentioned earlier, there's no such thing as "free" travel. House and pet sitting can for sure save a lot on travel accommodation, but often the other costs involved may balance out any short term vacation savings.
Airfares - Remember last minute long-haul flights are often much more expensive, or available low cost options may involve lengthy layovers.
Vaccinations and Covid tests - both require some advance planning and extra costs.
Visas and tourist entry or departure taxes - Often these are included in the airfare, but not always.
Visa extensions - if it's a long term house sit, you may incur additional costs to renew or extend your travel visa.
Cost of getting from the airport to the sit and back again - This can be high, especially if you are traveling to a remote location. It's possible the home owner will pick you up, and that's something you can discuss.
Cost of living - Expat locations can be more expensive, especially for food and drink if it has to be imported.
WiFi and telephone costs - WiFi is usually included where available, but you may need to find a phone package or need to upgrade your internet service, which will be covered out of your own budget.
Travel and/or Medical Insurance - The longer you are away, the more you will have to pay for travel and/or medical insurance. World Nomads are a good option, especially if you need to book mixed locations around the world and over a long period. On a long sit or as a full-time house sitter or nomad, you may need to find an insurance company that allows you to extend your insurance while away from your home country. Not all policies allow this, but both Safety Wing and World Nomads do.
Dealing with home emergencies - When house sitting locally it's often much easier to deal with a family or personal emergency, than when you're a long (and often expensive flight) from home. You may find that some international home owners prefer couples, so that one can remain in-situ should an unavoidable situation occur. Make sure you have a Plan B or contingency plan
7. Remote and off-grid house sits
International house sits can often be in more challenging environments. In the tropics, or in the bush in Australia, you might find that homes are very different to what you've been used to. We see more complaints from people who have taken house sits in remote areas and not understood the complexities and requirements of looking after the home and the pets, so this is an important part of your assessment process for global house sitting options.
How remote is the property?
If the property is remote, and in an unfamiliar location and climate, you might want to consider carefully your suitability to the house sit.
Is a car included? Personally, We would never accept a remote house sit without a vehicle. How would you get a poorly pet to the vets, or yourself to a hospital in an emergency situation?
Remote living isn't for everyone. Don't pick a house sit based on location without considering what it would REALLY be like to live there - especially if it's a long term sit.
We were recently house sitting in Africa, 40 km from the nearest town, and were restricted to two trips a week in the car that was provided for our use. We weren't able to drive after dark because it was too dangerous (wild animals not people). Could you handle this? The prior house sitters couldn't.
Remote properties can also be prone to longer power outages when there are electrical problems. If you work online you might need to consider this carefully.
House sitting at off-grid homes
Off-grid properties are not connected to regional water and electrical supply services. It doesn't however always mean that internet isn't available. Power comes from solar panels or a generator, and water from a bore-hole, well or a simple rainwater collection system.
A good, well maintained system should run with minimal problems, but there are some basic skills you'll need to know to efficiently maintain your power and water supply.
If you're a high power consumer, think twice about choosing a solar powered property. Many off-grid homeowners will specifically request house sitters with relevant experience. Don't bluff your way into a sit without having the necessary practical experience! If you ruin the batteries on a solar powered system you could be looking at thousands of dollars to replace!
If you work online, seriously consider and ask plenty of questions before accepting a sit that may limit your ability to work consistently or at all!
Having owned (and built) an off-grid property in Panama, we have quite a lot of experience to share on this particular topic. For further reading take a look at this in-depth article: House Sitting Off-the-Grid
8. What will the home owner expect from me?
Before accepting any house sit, but particularly those abroad, you must find out what the home owner expects of you. Local sits are generally much easier - you are in a familiar environment for starters. But imagine taking on a 3 month sit in Costa Rica with no air conditioning, and a street of barking dogs, 30 kms from the nearest shop. As you can imagine, there's a lot more you need to know!
Video chats with the home owners
Our suggestion is always to talk extensively with the home owner, preferably by some form of video chat. We find Skype less effective these days, but there are many other options including Whatsapp, Facebook Messenger, Zoom, and Facetime. Again, with local sits you can often go and visit the home owner and the pets, but for house sitting abroad this is not so likely to happen.
As part of your due diligence you need to ask questions about the pets, their routines, the property, land management, and a whole host of other items. We have a comprehensive checklist as part of our online video course - if you drop us an email we'd be happy to share this.
We also advise you take a read of this article which looks comprehensively at home owner and house sitter expectations and where we see most "disputes" arise:
Remember that the most important aspect of house and pet sitting for the home owner, is usually the pets. This is where your focus should start, and at all times think about what you are bringing to the exchange, not what you'll get from it. That's important, but in the competitive world of house sitting, you need to first address the needs of the home owner.
Give to receive - that's what we say, and what we've found works best. Our needs are secondary by the very nature of the exchange, we've always receive far more than we ever hoped we would as unpaid long term house sitters.
9. Make your house sit profile international
Once you've considered all or the relevant points above, and done your travel research, it's probably time to beef up your profile. If there is anything that can be added to help your credibility when applying for overseas sits, now's the time to get your profile updated.
House sitting references
One of the first things you need to do is to make sure you have all your local references to hand. If you want to know more about references, how to get them, where to get them and how to make the most of them, then this article will help:
No experience? Be creative
Think about where you've traveled abroad and what challenges you've overcome?
Assess what particular aspects of international travel you've enjoyed and environments you've thrived in. For example, if you spent two weeks traveling in tropical conditions, and loved the heat and humidity, this is valid information.
If you've rented a property overseas with a house keeper or a cook for a vacation, it's relevant. It shows you're comfortable with house keeping staff which is common in many 2nd and 3rd world countries where labor is cheap.
Have you?
volunteered overseas?
backpacked around a country or continent?
been on a tour in a remote or exotic location?
worked or volunteered at an animal rescue centre?
ever had a rental or Airbnb type property?
renovated a home or investment property?
Anything that shows adaptability, and how you've experienced cultures and environments outside your home country, will help gain credibility. Are you good at DIY for instance - don't be shy about mentioning any relevant skills.
Don't get disheartened. There are always home owners who are willing to give new house sitters the opportunity to experience a different location.
Always be honest and explain your reasons for becoming an international house sitter. Talk about your positive personality traits, qualities that would help you in a difficult or challenging situation.
10. Making international house sit applications
Communication is key
Make sure you invest time in thoroughly communicating with the home owner about everything you need to know to be comfortable with the house sit you are applying for. We always request a video chat so that we can really get a full understanding of the house sit and pet responsibilities, BEFORE accepting the assignment. Spend as much time as is necessary, and watch for red flags!
Personalize house sitting applications
Make sure you read everything in the home owner's advertisement and see if there's any way that you can make a more personal connection.
Show your commitment
This is especially important if flying a long distance to get to house sitting assignments. We always explain that once booked we never back out of a house sit (except in exceptional circumstances). One of us would always stay even in the event of a family emergency.
Once booked, we also send copies of our flight tickets, which serves two purposes:
To show our confirmed flights and arrival dates
To demonstrates to the home owner that we've invested financially in the assignment. This hopefully deters them from making random changes or cancellations.
If you are financially independent, explain this to the homeowners. It will reassure them that you can afford to make the trip and sustain yourselves throughout your house sitting jobs. If something were to go wrong, for instance, or you needed to pay for urgent medical or vet care, it is reassuring to know that can be covered. That said, you should always make sure that there is an emergency house sitting fund available for pet emergencies, or that there is an account with the vet.
Include this information in your profile and reinforce it in your personal application letter.
Remember when writing that you are looking to fulfill the home owners needs, not your own personal requirements.
11. Where to find overseas house sitting jobs
Finding house sitting jobs overseas isn't difficult if you know where to look. You will find a number of reputable international and country-based websites with house sit jobs listed all over the world.
We've listed the best international house sitting websites below, along with some great house sit platform discounts that we've managed to get through House Sitting Magazine to help you get started with your house sitting lifestyle:
TrustedHouseSitters (25% discount - no code required)
HouseCarers (10% Discount - no code required)
Nomador - Free Discovery Option
HouseSitMatch (Code 50HSMAG for a 50% Discount)
For anyone thinking of house sitting in Mexico then there's a website just for you! HouseSitMexico has sits and sitters throughout this vibrant country. Because of the large expat community you'll find a lot of house sits available in some amazing places like Ajijic, San Miguel de Allende, Patzcuara and many more.
If you are curious about house sitting in Mexico, our in-depth guide to house sitting in Mexico will give you some good insight and inspiration!
If you are house sitting in Australia then take a look at our favorite dedicated Australian house sitting website, AussieHouseSitters - we've had some fabulous house sits in Perth and Melbourne. They also have a site in New Zealand called KiwiHouseSitters, another in the US, the UK and, finally one in Canada.
The discount code HSMAG15 works for all of the individual companies in this group. References are transferable between the sites too.
AussieHouseSitters
HouseSittersAmerica
HouseSittersCanada
KiwiHousesitters
HouseSittersUK
Which house sit site is best for you?
Having tried most of the major, reputable house sitting websites over the years, we've discovered they all have their pros and cons. We've written about this extensively in our popular article where you'll find our objective reviews, but some of our favorite house sitting websites are also highlighted:
The Best House Sitting Websites Compared
You'll find up-to-date information on all of the well-known and credible international house sitting sites, and regional websites, along with prices and a feature check-list. We also include all our current offers and discount codes.
But remember, it doesn't cost anything to browse, and you'll probably find yourself drawn to the website that offers the most opportunities in the areas you are looking! Don't forget to check out independent reviews on the platform you choose.
Where to find global house sitting support
Get house sitting support: Despite our love for this lifestyle, house sitting is a job, and sometimes jobs don't always work out as you imagined. It's the same with house sitting - 99% of house sit jobs are amazing, truly better than you might have hoped for, but 1% may let you down.
Having access to a support group where you can share your experiences is invaluable. You'll find a highly engaged community to network with at the House Sitting Magazine Facebook Support Group - not only is it a great place to research and discover what works for success, but you'll also find constructive support when needed.
12. Get ahead of the house sit competition
Competition is tougher on the international house sitting circuit. Everyone wants to house sit in beautiful Costa Rica, the Caribbean or even Africa. We have house sat in million dollar properties with pools, in the UK, Australia and the Caribbean, and now we get plenty of offers to repeat house sit. But these sits are competitive initially, and our decade of house sitting experience and five star reviews really does help us secure these house sitting jobs.
But, we all had to start somewhere. And with a bit of extra effort at the outset there's no reason why you can't compete. To get a head start with your house sit applications, there are a few things you can do:
Review and enhance your house sitting profile - really work on selling your skills, your prior pet care, your personality, and get some relevant references to build credibility.
Create email alerts on house sitting platforms wherever possible so that you can respond instantly to relevant sits
If you're serious, sign up to a few different sites. Maybe one international, one regional to improve your chances.
Look for house sitting groups on Facebook - identify unfulfilled opportunities.
Last minute house sits
Consider a last minute house sit that hasn't been filled or where someone has cancelled. There will be far less competition from long term or professional sitters who'll have been snapped up long before. Check Facebook groups and pages associated with the major international platforms. They often post last minute sits on social media.
Covid-19 house sit update
Although international house sitting is currently on hold beacuase of the pandemic gripping the world, domestic sits are still being advertised and are likely to slowly increase over the coming months. This is a great time to build your expertise and references, so that you are immeditely ready to take advantage of international sits as travel overseas becomes more widely available.
Remember to check the lockdown, immigration and quarantine regulations during these unusual times, before undertaking any travel for house sits or otherwise. And make sure you have a viable backup plan if things don't proceed as you hoped.
Pin to read later
Last updated on March 14th, 2021