What's realistic in the house sitting exchange?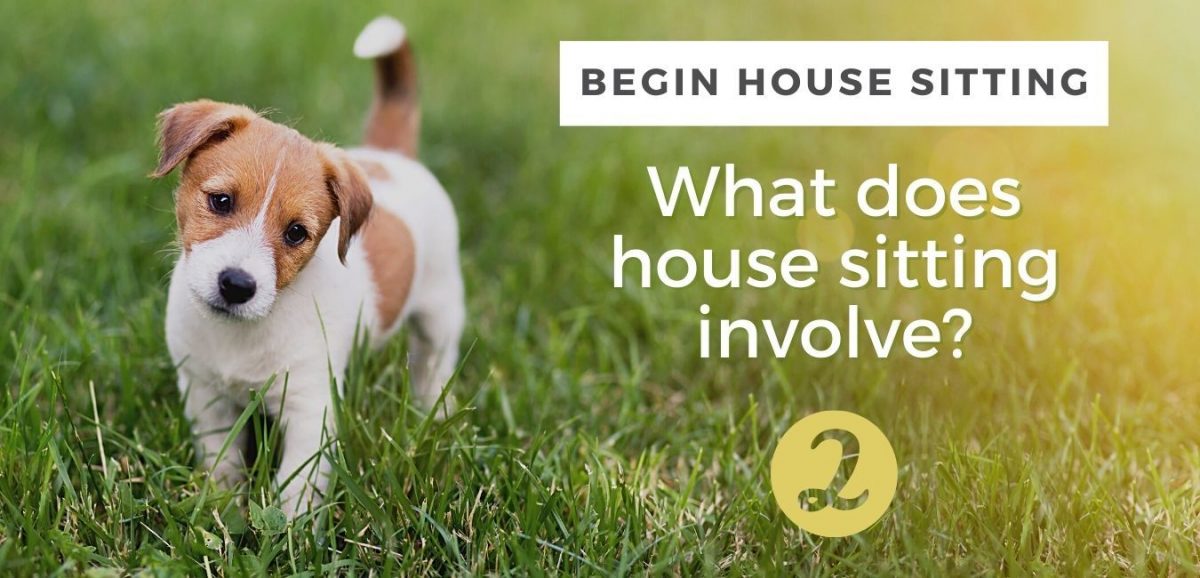 House sitting etiquette - the do's and dont's
I spend a lot of time reading comments on house sitting forums and social media sites. One topic that arises over and over is that of "unrealistic" house sitting expectations from either the house sitter or the home owner.
Sadly this often manifests as a post about an unhappy experience, for one or other involved. Maybe the house sitter duties weren't clearly defined, or there was a misinterpretation about what the house owner should provide.
That's not to say that house sitting doesn't produce amazing, positive outcomes 99% of the time. It's just that when house sits go wrong, it's more likely to be reported, often as a way to understand how these situations can be avoided in the future.
Most misunderstandings come about because of a mismatch of expectations. When a transaction is entered into without payment, the parties involved often find it harder to lay down firm details of the house sitter responsibilities. A contract of trust as a value exchange is something many feel should be built passively. A lack of assertion in regard to house sitting duties, can lead to false impressions about what is expected.
This is the second of our 6 house sitting guides in the series - How to become a house sitter. We hope it will help you avoid the pitfalls when selecting and booking sits and sitters by knowing what is expected as part of the house sitting value exchange.
Table of Contents (click here to expand / collapse)
Define expectations before taking a house sit
The good news is that by defining your expectations in advance, and by communicating before or at the outset of the assignment, you can minimize all but the most unexpected of situations.
A written house sitting agreement is even better and doesn't have to involve a legal house sitting contract - just a list of what is expected during and at the end of the house sitting job that you have all agreed on.
Having an awareness of some of the common misunderstandings can highlight those areas that cause most upset, and perhaps allow you to make some small adjustments or compromises to your own requirements in order to secure your perfect sitters, or for sitters, your ideal house sitting assignment.
What is the house sitting value exchange?
House sitting is a service where a homeowner entrusts their property, possessions and in 98% of cases, their pets, to one or more "house sitters" for a specified period of time. Usually to cover vacations or longer travel trips.
And... what do house sitters do? By mutual agreement the sitters get to live in a property in exchange for carrying out house sitting duties. This usually includes taking care of pets, looking after the home and keeping it clean and tidy, organizing occasional maintenance in the event of something going wrong, and generally making sure that everything runs smoothly, just as if the owner was at home.
Here's our take on the reality of being travelling house sitters
House sitting is a trust based value exchange that should result in happy home owners, satisfied house sitters, and a fur family that benefits from keeping to their normal routines, being looked after by people who love pets!
What are the responsibilities of a house sitter?
Homeowners usually have very clear expectations of their house sitters:
They want to leave their home and pets with people they can really trust and rely on.
They want their house sitters to turn up and leave when expected.
They want their pets cared for, loved, fed and exercised in much the same way that they themselves would look after their fur families.
They want the pet sitters to spend time with their pets.
They want to return to a clean and tidy home, with happy pets and a well tended pool, garden or outside area.
They may want a house sit report periodically while they're away.
They might also want to establish a friendly relationship whereby they can call on you for a repeat house sit sometime in the future.
What's expected of the home and pet owner?
House sitting expectations of sitters are less easy to define, but as a minimum they would hope:
To be given honest information about the pets, their behavior, socialisation, health and temperament; the property and location; and the homeowners expectations.
To receive information about vets and have an account set up for any treatment required, or an emergency cash fund if not.
To be provided with a bedroom, a bathroom and a comfortable living space (especially on long term house sits), with enough storage space for hanging clothes and storing possessions.
To be handed over a home that is clean, tidy and doesn't constitute a health risk (it happens!), and to know there aren't any infestations of fleas or other insects/critters beyond what is considered generally acceptable.
If WiFi is a necessity because the house sitter works remotely from home, then they would expect an honest appraisal of internet connectivity, speed and possible downtime issues.
If the property is remote, that a vehicle is provided at least for emergencies and food shopping, or alternatively that they have been advised that a rental car is necessary.
To be told in advance of any internal or external alarms, cameras, surveillance or pet monitoring systems, sound monitoring technology like Alexa, or video door bells.
I hear you saying that this all sounds like simple common sense... and it is!
Two things can destroy any relationship:
1. Unrealistic expectations
2. Poor communication
Why sometimes, do house sits go wrong?
House sitting needs and expectations are pretty personal and subjective.
What is unrealistic to one person, may be considered perfectly normal to another. And house sitting without pets can be very different to house sitting with pets.
Professional house sitters will usually have a checklist of items they will discuss at the house sit interview before committing to the house sit. They can go into further detail at the handover - all of this really helps clarify those expectations and make sure you are both in full understanding of each other's requirements.
Remember this is a two way exchange, both the home owner and the house sitter should feel equally happy about the house sit. Neither one should have a feeling of "entitlement". For example, if your expectations of sitters are too high and you see them as "staff" you might be better looking for paid pet sitters. As house sitters, if you want something akin to a luxury Airbnb, fully cleaned and serviced, this might not be the best option for you.
Unrealistic expectations from home owners:
Adding pets without notifying sitters in advance - Whilst it's admirable to adopt or foster rescue dogs, it is not acceptable to expect a house sitter to unexpectedly deal with additional animals without notification.
Leaving unpaid utility bills for sitters to pay - Utilities such as gas, electric and water, should all be paid up-to-date, and provision made for settling ongoing bills. The exception may be for long term house sitters where there is an agreement to pay the utilities - typically on sits of longer than 6 months.
Expecting sitters to sleep on soiled mattresses, or with unclean bed linen and pillows - Please don't provide a bed with unclean linen or badly soiled pillows. New pillows are extremely inexpensive these days in most countries and will always be appreciated by house sitters! Similarly a mattress cover is preferable to encountering a badly stained mattress when changing sheets!
Leaving on a date other than that agreed (except in an emergency) - It can be uncomfortable to co-exist in a property for any length of time, especially if this is unexpected. If the house sitters are also digital nomads and work from home, this may impact their income, commitments and deadlines. It becomes difficult to know when house sitting duties commence and can in fact cause minor conflicts as the pets become confused about who is exercising or feeding them.
Expecting unreasonable pet care or tolerance of poor pet behaviours - Examples include not being able to EVER leave the pets alone; pets that MUST sleep in the bed; cleaning up after pets that have had no toilet training, and who pee and poop all over the house; undisclosed continual barking or aggressive behaviour. Not everyone will have an issue with this, but you need to find the house sitter that best suits your needs, and that involves finding out before they arrive.
Allowing your kids unrestricted access to the house - House sitters are not "baby sitters" and leaving teenage kids behind in the property is unacceptable. For grownup kids, it is not OK that they unexpectedly drop by to sleep over, or bring friends home from university while you have house sitters. If it's agreed beforehand then fine, but avoid surprises!
Asking for a deposit when the house sitters arrive - This must always be disclosed at the outset as many sitters will choose to decline the assignment if a deposit is requested. Generally a deposit is not part of the trust based exchange.
Subjective situations
Let's talk about subjective, unrealistic house sitting situations. These are things that are perhaps acceptable to some, but unacceptable to others. They wouldn't necessarily be deemed unacceptable IF they had been discussed at the interview stage.
Security cameras and surveillance equipment - While it is usually acceptable for external security cameras, it is not generally considered OK for internal cameras, or voice monitoring equipment that films or records house sitters throughout the house sit. This goes against the trust that is the basis of a house sitting arrangement. It is especially unrealistic (and possibly illegal in some countries) to film secretly. Some sitters don't worry about cameras, others will, but it's fair to disclose cameras in initial conversations or even in your profile. If required by insurance, provide the option to switch off monitoring while in the house and re-activate when out, like an alarm - even if this involves covering the cameras.
TrustedHousesitters state in their terms that you must "notify the sitter of the use and location of any CCTV or monitoring equipment prior to commencement of a sit (failure to do so will result in suspension of your membership)." We would add that this should be disclosed asap and not left until the handover, which is technically before the sit commences!
Now that security equipment is much more affordable, it's important that as a house sitter you ask about this as early as possible in the discussions, so that there are no surprises.
Vegan or eco-friendly, green properties - In this situation there may be special considerations that need to be adhered to, such as no meat products in the kitchen, use of only eco-friendly toiletries, and possibly the use of only a composting toilet. Fine if discussed and accepted by the house sitters, but a shock if they arrive and are not prepared.
Remote or off-grid properties - If not experienced in remote house sitting or off-grid living, this may be a difficult first assignment for some house sitters. It's important they are informed about all aspects, including any special daily maintenance that may be needed. You may also need to give specific instructions for solar systems, rain water collection and management, and other remote living challenges. Power management might be a new concept for remote workers who need access to their computers and wifi on a continual basis!
Lodgers - If you have a lodger, boarder, or elderly relative living in the property, in an adjoining house or within the grounds, it is courteous to discuss this with the house sitters in advance. It's up to them whether to accept in this situation. Again, on the TrustedHousesitters platform specifically, the property must be vacant for the duration of the sit with no third parties staying for any period of time.
Building work with unacceptable noise - Don't knowingly move out of the home to go on vacation because of building work in your house, on adjoining land, or in a neighbour's home. This will be especially distressing for the house sitter if it impacts on their ability to work from the home.
Emptying the pool - If the property is listed as having a pool, don't empty it prior to the house sitters arrival, just to save on pool cleaning and maintenance costs. Let them know you plan to do this in advance and perhaps give them the opportunity to maintain the pool or pay to have it maintained.
Paid staff - Don't retain the services of a house keeper, gardener or other staff and expect the house sitter to personally pay their wages without prior discussion. Similarly, don't provide staff but not inform the house sitters until they arrive. While many will welcome the help, some people are extremely uncomfortable having staff in the house, and dealing with their pay, especially when it involves a different language.
Unpaid care of a B&B, Airbnb, hotel or rental business - Looking after a business with no payment is a no-no for many house sitters, who are very clear that this is a job, not a house sit. Others may welcome the chance to gain experience in a business environment. Full disclosure should always be made, and any arrangements to split the income, pay a stipend, or salary, should be clearly discussed and agreed (I would suggest in writing) well before the assignment begins.
Cancelling a sit after house sitters have committed to an expensive international flight - This is a tricky situation, as we can't always prepare for unexpected emergencies, accidents, family deaths etc. But likewise, your house sitters may have incurred a hefty charge for airfares. As a gesture you could pay for alternative accommodation, help them find another house sitting option, or put them up while they organize their alternative accommodation. If it's within your means, then paying the flight cancellation fee would be very much appreciated.
Unrealistic expectations of house sitters
Free accommodation as the primary motivator - Thinking that house sitting is only a way of getting free rent for an extended period of time. Taking an assignment with pets when you have no intention of looking after them as the home owner has advised.
Cleanliness - Don't assume it's not your job to clean, tidy the home and garden, or wash the bed linen throughout and at the end of the assignment. You aren't staying in a hotel - it's somebody's treasured home. If leaving the same day, remove the bed linen ready for laundering. A home should always be left as clean, if not cleaner than when you arrived. That will help you get a great review!
Rearranging homeowner cupboards and drawers - However untidy you think they are, leave well alone. Similarly, don't move furniture unless you plan to replace it when you leave. Take photos so that you can put it back in exactly the right position. If a home is extremely cluttered on arrival, take photos and discuss with the home owner how you will make some space for living. This is something to look at in photos, and when having a video chat.
Turning the swimming pool green - Don't allow this to happen just because you didn't have the appropriate skills to maintain a pool, or you neglected to regularly do what was required to keep the chemical levels balanced. For more on pool skills check out the previous article "House sitting skills - Basic swimming pool maintenance".
Leaving pets unattended for long periods - Don't think it's OK to leave the pets unattended for long periods while you go sightseeing. Remember house sitting comes with responsibilities. Discuss how long the pets can be left when you have your pre housesit interview.
Uninvited guests - It's generally NOT OK to have friends or family visit or stay, without prior permission from the owners. Many owners will say no - this is quite normal. But, you can always meetup at a local restaurant or hotel.
Overnight stays away - It's wrong to expect that you can leave pets with some extra dried food, while you pop off on an overnight excursion. However, if your pets are cats, you may be lucky enough to have the homeowner confirm that an overnight stay is fine. Cats are generally more independent than dogs!
Overuse or inappropriate use of cars, boats or other vehicles - Always agree the terms for use and also any maintenance required during your stay. We were once left mountain bikes, but were asked to have them serviced before leaving, if used extensively. Some homeowners have restricted our car use - no more than 50 miles a day for instance. Take photos of any transport options provided and the odometer, before use.
Restocking food - Don't assume you can eat any of the food left in the freezer, pantry or refrigerator without replacing, like for like. This is one of the most common areas of misunderstanding. Many homeowners will specify that it's OK to eat perishable items in the fridge. But, they may have food items that they've bought from home that are especially difficult to import or replace, and so get very upset (rightly so) if these are eaten without permission. If you are lucky, they may leave you something special like a bottle of wine, or some nice cheese!
Changing the pets' diet or feeding "human" food when you've been specifically asked not to - This can cause discomfort for the pets and unwanted sickness or diarrhea - neither of which are pleasant to clean up. Pet sitting is about maintaining routines, not introducing new ones that cause disruption.
Mistreating pets in any way - This is so obvious, and I have rarely heard of any cases of house sitters mistreating dogs. But for example, I recently heard of a house sitter who left dogs outside the house at night, when they were considered indoor dogs. For the homeowner this was, in her mind, a case of abuse.
Your own pets - Don't take your own pets to a house sit without first discussing with the home owner. This could cause all sorts of problems.
Entering areas of property designated "off limit" - Sometimes rooms or equipment will be designated as "off-limit" by the home owner. They may lock a room or just request that you don't use it. Be respectful in this situation.
Breaking items and not replacing them - Even worse is to hide a broken item and hope that the home owners won't notice! Own up to breakages - accidents happen. Especially on a long term assignment where the occasional broken glass is to be expected. If you see glassware or crockery that you think might be expensive or difficult to replace, avoid using it. Always offer to pay if you can't find a replacement.
Arriving late or leaving early - Arriving late should be avoided at all costs. We always plan to arrive a day early, especially when multiple international flights are involved, and where delays are likely. If you can't avoid a late arrival, keep your homeowners informed and arrange an alternative handover. If an emergency situation means that you have no choice but to leave early, try to find a suitable replacement and do a handover if possible. Involve reliable neighbours or emergency contacts to help you.
Last minute cancellations - As we have mentioned, emergency situations sometimes result in an unavoidable cancellation. But, cancelling just because you find a better option, or have a change of mind is really unacceptable and bad practice. In this case, you might consider financially recompensing the home owner for any inconvenience or costs they have to incur.
We can't stress enough how important it is to always take house sitting commitments seriously. Consider the financial implications and the mental distress of your actions.
Update 2020: If you are affected by the pandemic, you might find this article about having backup plans a useful read.
How to meet each others' house sit expectations
All of these situations can be avoided if you enter into a house sitting agreement with integrity, and you are honest with each other about what you expect.
However crazy you think your expectations are, the chances are there will be someone out there who thinks just like you, and who is happy to fulfill your requirements. For instance, while one person may categorically say they don't sleep with pets in the bed, many are happy to accommodate this.
With the exception of the few "genuinely" unrealistic expectations (see above), most are simply a case of finding like-minded people who manage their pets and homes in the same way that you do. That's why the best house sitting websites often talk of "match-making" when bringing homeowners and sitters together.
It's only when you aren't honest and don't communicate your expectations clearly (and this is as much for home owners as house sitters), that misunderstandings occur.
Exceeding house sitting expectations
Sometimes home owners and house sitters exceed house sitting expectations, going above and beyond in their levels of care, generosity and consideration.
We consistently hear of house sitters who leave houses cleaner and tidier than when they arrived. Who cook amazing return meals for the home owners, and who exceed all expectations in pet care.
More often we told of, and experience ourselves, the most appreciative home owners, those who leave welcome packages of food, take house sitters for amazing meals, or leave gifts and tips at the end of the house sit.
None of this is expected but the generosity of both house sitters and home owners, is one just one of the things that makes the house sitting lifestyle special!
Last updated on October 6th, 2021