From house sitting to farm sitting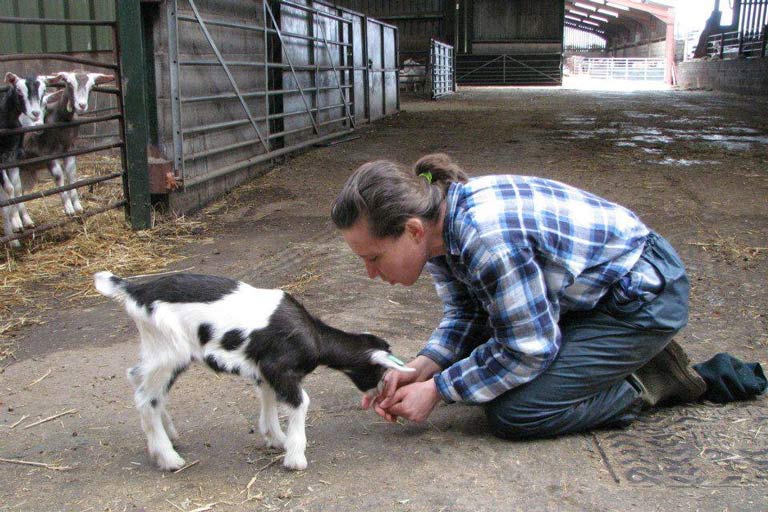 House sitting for free, to farm sitting for profit
The fascinating thing about life is that sometimes, one seemingly minor decision can have an enormous impact on your lifestyle, the people you meet, the things you do and the places you see.
When the last dairy goat farmer within traveling distance of my south eastern Queensland (Australia) home told me she was going out of business, my response was, "But where will I buy my goat milk?"
"I suggest you buy your own goats," she said. And to my astonishment, that is exactly what I did.
At the time my experience and knowledge of goat husbandry was below zero, but how different could it be to looking after a horse, a dog, some chickens or a guinea pig?
Very different as it turned out.
I settled into a new reality, where I didn't have a holiday for half a decade because it was virtually impossible to find someone as responsible, loving, and efficient as I was to look after a dozen goats for an extended period of time.
Later, a change in personal circumstances and the subsequent sale of the herd opened a new chapter of my life. Like many people I dreamed of long-term travel but the reality was, I needed an income.
How to make money to travel
Fast forward, and here I was sitting almost broke in an Edinburgh cafe wondering what on earth I could do to generate the time and money I needed to continue my travels.
I had met many people who I called real travelers. An outdoor educator leading mountain treks and kayaking tours, a non-Scottish busker playing the bagpipes, and a zoologist monitoring an otter population in the Outer Hebrides.
I wasn't qualified to do any of that, but I could milk a goat!
Milking a goat might not have seemed the most impressive skill to my bagpipe playing, zoologist friends, but it opened the door to a lifestyle that allowed me to live in some of the most beautiful places in the world, meet the most fascinating kind and inspiring people, pretty much kiss a monotonous life goodbye, fund long-term travel, and have money in the bank.
My hobby and commercial farm sitting service was fully booked within a year, the average farmer leaving me in charge for a month at a time. Sometimes longer, but rarely shorter as in my experience, it takes one week to get to know the ropes, one week to have the place ship-shape for the owners return, and any time in between to really enjoy yourself.
Is it possible to make money as a farm sitter?
Farm sitting is a lucrative niche market. Unlike a previous foray into house sitting, farm sitting was virtually competition free. I barely had to market my services because a farmer being able to take a worry-free holiday was newsworthy and word spread like wildfire. It was so popular farmers began organizing their annual holidays around my availability and somewhere in there I needed to book time as well for my own travels.
Enquiries came from all around the world, Hawaii to Vietnam, the USA to Bulgaria, and Australia to France. The majority of commercial placements, those that have the highest financial return, were in Great Britain.
For almost a decade I strutted my stuff from Land's End to John O'Groats and everywhere in between, enjoyed a 12-month placement in the Loire Valley of France and a dream job on Norfolk Island in the Pacific.
Farm sitting - do what you genuinely love to do
During my time as a farm sitter, I heard many people say, "I wish I could do what you are doing." What had become my "normal" was something viewed with fascination, respect and sometimes the envy of others.
I was fortunate to travel the world and earn a living doing something I genuinely loved. Most days I felt like I was living a dream. Other days, I woke up at 4 am on a blisteringly cold winter's morning and asked myself what on earth I was doing.
However, the rewards of traveling while enjoying the comforts of home, making new and life-long friends, visiting extraordinary places where the average tourist would never see, far outweighed any of the challenges.
Don't ever doubt yourself!
My advice is, if you ever doubt yourself or are wondering what possible skills you might have that would enable you to travel the world, for virtually free - don't.
If you think you are too old - don't.
Too broke - don't.
Too fearful - definitely don't.
Where can I find farm sits?
It doesn't matter what your passion or skill-set is. There is always someone out there who needs it. You just have to find them.
To be a farm sitter you just have to do it well - everything else falls into place.
Donna has written a book all about her farm sitting adventures - Farm Sitting - How to Travel the World One Farm at a Time. It's full of lots of relevant information. You'll be surprised what you can learn about farm sitting and you'll find lots of tips and advice that will help if you ever decide to house sit on a "hobby farm".
Adverts for farm sit jobs are much more localised than international house sits for dogs and cats. You'll need to be a bit more creative. Try searching "farm sitting" or "farm sits" on your browser and add the area you'd like to be in. You'll also find opportunities to connect through some of the print and online farming publications. Think about where farmers would connect with each other to find sitters so that they can take a vactation.
You'll find a few groups on Facebook where you can connect with others and widen your knowledge. Workaways, farmstays and similar organisations will also provide options to improve or increase your skill-sets. This link will take you to a Facebook group for Aussie farm sitters and farmers to connect.
Consider where you can farm sit. In the USA many farms are big ranches employing many many people, and are unlikely therefore to have someone sit for them. Whereas in the UK, Europe and Australia, you'll find smaller farms who will be more open to the idea.
We have found one farm sitting website in Australia, and although we can't personally vouch for them, they could be a good place to start your search, if looking in the southern hemisphere. They charge a flat annual fee for both the farmers and the sitters, just like other international house sit platforms, and you have to sign up to see the detail of what's available.
Guest author - DONNA MULVENNA
Donna has now left her life of farm sitting to follow her new boyfriend to the French Amazon. There she lives a life half wild, where she refuses to own a mobile phone, rarely wears shoes and is passionate about living on a whole food, plant-based diet. If she can't be found swinging in a hammock typing away furiously at her keyboard or somewhere off the coast reading from her sea kayak, you will find her hurtling along the great Amazonian rivers in a sprint canoe.
Last updated on December 19th, 2020