How to keep finding house sitting jobs in 2021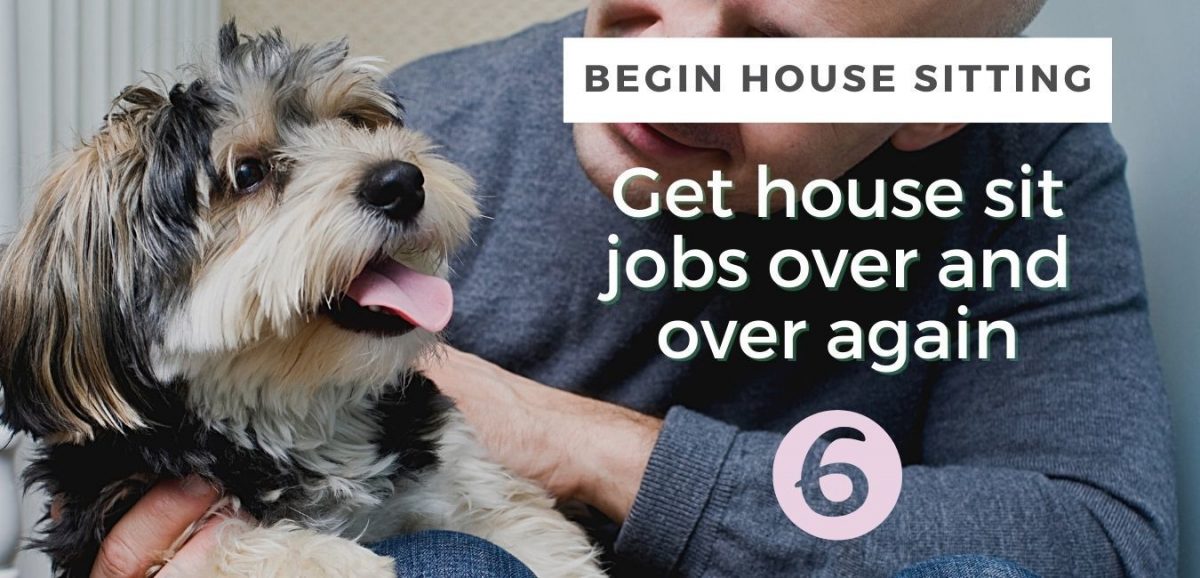 How easy really is it to get back-to-back house sits?
If you're a new house sitter, or someone with one or two house sits under your belt, you could be wondering how easy will it be to keep finding house sits. This is a bigger concern if you intend to use house sitting as part of a full time nomadic lifestyle, and especially now with travel restrictions playing havoc around the world.
We are often asked how we manage to consistently secure back-to-back house sitting jobs in the locations of our choice. Well, firstly let me tell you, we have had to put some work in to make this happen.
Home sitting jobs rarely just drop into our inbox, conveniently timed in just the right location, to make our life easy! We've worked hard to perfect our profile and our house sit applications. This helps us get more house sitting jobs, more of the time!
This is the final guide in our 6 part series - Become a house sitter. We hope it will help you follow in our footsteps and get as many house sitting jobs as we do.
Table of contents + Click to display / hide
1. Join more than one house sit site
This is the easiest way to get maximum exposure and to get your house sit profile seen by as many home and pet owners as possible.

But isn't this an expensive option?
As full-time house sitters, we don't worry about the cost of joining international house sitting websites or country based platforms. Most subscriptions are the equivalent of a night or two in a hotel or Airbnb. We figure the overall saving on our annual accommodation easily compensates this expense.
Our favorite house sit site with 25% discount
A lifestyle investment


We really do believe, after 10 years of house sitting successfully all over the world, that our subscriptions with multiple house sitting platforms, are an investment in our continued freedom lifestyle.
By signing up with two or three of the international house sitting sites, and a local country based site (depending on our chosen location), we increase our house sitting opportunities and are more likely to fill gaps between sits. We've proven this to be successful, time and time again.
What if I'm not a full-time house sitter?


Even if you're only house sitting for a couple of weeks each year, think about how much you are saving on accommodation, and really weigh up how just a little more investment could open up more opportunities that fit your particular needs. This is especially true if you are a family, or if you have a pet of your own - two scenarios where you'll find less house sitting jobs available.
Take a read of our popular house sitting platform comparison guide to see which sites we think are worth joining. You can also take advantage of some specially negotiated discounts with TrustedHousesitters, HouseCarers and the AussieHouseSitter Group of companies.
2. Update and refresh your house sit profile
It's easy to just forget about your profile once you are an established house sitter, but making sure you carry out an annual review, updating your skillsets, listing new animals that you've cared for, and refreshing your photos, could have more benefits than you think. It's well-known that on some platforms, updating your details makes you seen more regularly when home owners search for sitters... at least for a while!

Here are our tips for how you can give your profile a spring clean in 2021!
3. Create a personal house sitter website
We created our own personal house sitting website, LongTermHouseSitters, which lists all our previous sits and references. It also has a page that details our house sitter skills in much more detail than we are able to on a house sit platform.
By creating a personal house sitter website, we are able to keep all our references and photos in one place. This is where we refer owners when we make our home sitting applications. We've been told time and time again that the website was the reason we were selected over many other similarly qualified house sitters. Why is this?
"Because we got a really good feel for you as a couple", and, "You look very professional - your website answered all our questions about using house sitters."
Not everyone has the skills to create a website, or even the inclination, so don't worry if it's not for you. I'm just explaining all of the things we use to help us get back-to-back house sits, over and over again. Facebook pages can be just as effective, or even an online brochure, saved as a PDF. If you aren't keen on any of these, simply make your house sitting profile the best it can possibly be.
If you'd like to find out more about easily setting up your own house sitter website then here is a short course to help you get started:
Learn how to make your own personal house sit website
4. Create a social media presence
Again, this option may not be for everyone, but posting on social media has become a popular way for house sitters to stay connected with their homeowners, and a method of attracting new house sits. Having a separate PAGE on Facebook keeps your house sit and pet posts separate to your more private personal page, or Instagram allows for a pictoral record of your sits that you can share with the owners (assuming they have given permission for pictures to be used in this way).
We have a house sitting Facebook page for full transparency which uses the same name as our website, "LongTermHouseSitters". We also have an Instagram page. That's enough for us!

If you have any other online credibility, such as a travel blog, or business profile, this can also help reassure home owners, so find a way to put links on your profile, message of house sit interest, or from your house sitter website.
HOUSE SITTER TIP
Be consistent with your online presence
When you set up a website or a social media account, grab that name across all media outlets you might use, even if it won't be used for a while. This way people can find you easily.
As full time global nomads who have sold their properties, it's difficult to get ongoing police clearance checks, but this internet transparency has worked in our favour. If you don't want people to see your online presence, make sure that you change your settings accordingly.
5. Join a house sitting referral group
As you get more house sits under your belt, you'll find that you'll begin connecting, and even meeting up with other house sitters on your travels. Through networking in this way you'll discover that there are a few select referral groups on the house sit circuit. If you can get referrals in this way, you'll find some unique sits that often don't ever get advertised on house sitting sites.
Seven years into this lifestyle adventure, our house sits are selected from house sit platforms, repeat sits, our own website/social media, and from referrals. That's a good base from which to secure plentiful ongoing sits!
6. Be first to apply for house sitting jobs
Once you've chosen which house sitting platforms to join, set up your email alerts (if this facility is available), so that each time someone posts an assignment that matches your filters, you get an email notification.
Your filters can usually include location, type of pets, duties and more, but we keep our filters pretty basic so we have a bigger catchment of assignments in the destinations of our choice.
Check alerts regularly


With so many new people entering the house sitting arena, it's becoming more important to check and respond to your alerts as quickly as possible. Many home owners stop the applications after just 10 responses.
Your first contact needs to be among first 10 responses


When I'm actively looking I keep the TrustedHouseSitters link open on my browser and check it regularly for new house sits. This ensures I frequently get my application in the first 3.
All of that said, if you miss a sit and see that more than 10 have applied, don't shy off from applying. If it's still available this can be that it's in a popular location, or it's a beautiful home, but not everyone applying is suitable. We've got sits with over 20 applicants because the owners were holding out for a couple with the relevant experience.
HOUSE SITTER TIPS
Be less picky about location
Think creatively. If you want a house sit in Central London, consider a sit in the suburbs and take public transport into the city centre. It's often an easier journey and house sits are less competitive.
7. Know what you want when reviewing assignments
Obviously the location and dates are important, so we isolate those sits that fit the time period gaps on our calendar. We don't overlook those that overlap a little - if they are close by we could separate to cover a day or two on overlapping sits. Sometimes home owners are able to be flexible with their dates, especially if they have't booked their flights.
We've overlapped several times now, with the home owner consent. In this way we were able to cover a period that might otherwise have been more difficult - again, maximize your possibilities by thinking outside the box.
Next we assess the home owner's advert:
8. Know what to avoid about house sits
This is a list that will potentially grow as you become more established as a house sitter. It's only after experiencing a number of different situations, in a variety of environments, that we've really identified what to avoid for our particular situation. Here are just a few of these items:
9. Apply quickly and personalize applications
As soon as you've found an assignment that suits you, send in your application. I think the key to success is to personalize your email or message and make connections. Talk about points from within the advert and use the pet's names. If you identify with something in the listing, or perhaps know the area, then mention this. We often become friends with our home owners and this is usually because we find sits where we make like-minded connections.
When making an application, remember at all times that it is about fulfilling the home owner's needs first, not your own. Talk about how you can do that. Draw on your experiences and put links to anything that can back up your application, such as your personal website, a blog you've written - anything to reaffirm your credibility.
I'm not suggesting that you negate your own needs, but don't make them the focus of your application.
We refer a homeowner to all of our references in one place on our website, but if you don't have this, create a word document or a PDF that you can attach to your application. It helps to make this visual too - include pictures alongside your written references.
Offer to video chat at a time that suits them.
Be sympathetic to the fact that the homeowners are likely to be overwhelmed with enquiries, especially if they are in popular locations.
10. Maximize exposure of your references in applications
We are often asked, "What if I'm new to a site and my references are on other platforms?" This is a more common situation than you may think, especially if you want to increase your house sitting job opportunities by subscribing to more than one house sitting platform.
But don't worry, it's easily dealt with.
When we first joined TrustedHousesitters, we had to compete with house sitters that had 20+ references. Of course we took advantage of the facility to request reviews from people we'd previously sat for, but we also took some pro-active actions:
11. Keep on top of your house sit applications
When we don't hear back within 3-5 days, we send a reminder message or email.
If we don't hear back within a few days of this, we pretty much write off that application and move on. If a reply does happen to come through later, don't feel bad if you've already found something else. You made the effort to connect and it wasn't reciprocated.
This is an opportunity to remind home owners that they need to respond quickly these days to get the best house sitters - we often ask that they keep our details on record for future house sitting opportunities.
We've often found that slow responses equal patchy communication on an ongoing basis, which is worrying for us when we are filling a year round schedule. So, we do prefer to deal with people who take the time to respond promptly, even if it's a cut and paste, "We've been overwhelmed with responses but we'll get back to you soon".
12. Listen to your intuition - know when to say no
After a decade of house sitting, I can tell within a few seconds if a house sit gig will work for us. My intuition is now highly tuned to my house sitting expectations and I make sure to listen to my gut feelings.
On the one occasion we over-rode this to be in a fantastic location, we had our worst ever house sitting experience. We ignored all the red-lights presented to us, but did at least learn from this mistake!
Listen to your intuition when you first review a house sit online and most importantly once you start corresponding by email, and when carrying out a video interview.
Don't ever be afraid to turn down a sit if it doesn't feel right for you.
Does this all seem like too much work?
Some house sits come easy, while others take a lot of back and forth communication and video or phone chats. We see every house sitting application like applying for a job and we now get 9 out of every 10 sits we apply for.

We are clearly doing something right, but the process takes time and effort. All our applications are personalized - we write from scratch - no cut and pasting. Research involves checking out the area, flights, visas, the pet breeds, and anything else that is relevant to the sit.
If you think this is all too much work to get a house sit, then that's probably why you are struggling to get house sitting jobs.
If you want to succeed, maximize your possibilities by investing time and money into using good house sitting platforms and sit alert resources. Put effort into refining your profile, register for house sit alerts, and make your applications as personal as possible.
Try these simple tips and you'll be sure to see a difference!
Last updated on March 14th, 2021