All the best worldwide house sitting websites compared in November 2021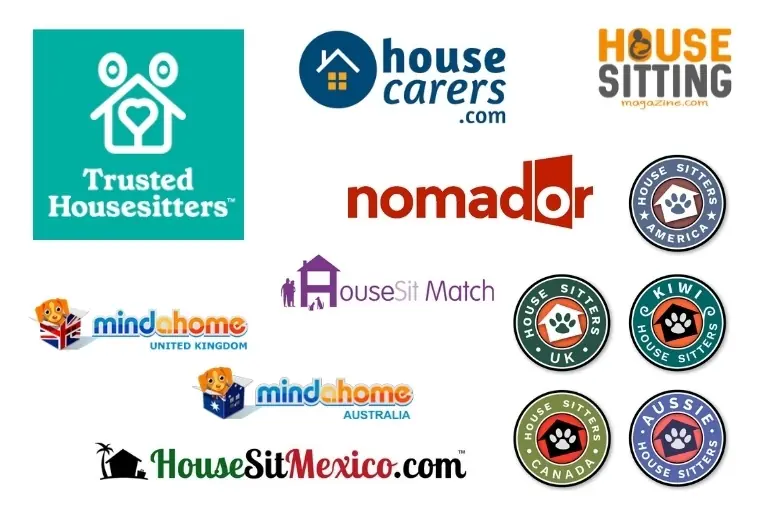 Table of Contents (click here to expand / collapse)
Best websites for house sitting at home and around the world
When you've decided that house sitting or pet sitting is for you how do you decide which is the best house sit website to join?

There are a number of very good international house sitting websites that match house sitters to home and pet owners with annual subscriptions ranging from $20 to over $200 USD. They all have different features and options, so it's easy when starting out to be a little confused.
But don't worry, we've got you covered - we can help you make informed, but easy house sitting choices. As full time international sitters (a Brit and an Aussie), we've been on the road for a decade and there aren't many house sit sites we haven't tried. House sitting long term means we've plenty of experience as both home and pet owners. We've seen house sitting from both perspectives and owned some quirky homes - our last property was a more unusual island based off-grid home in Panama.
Our aim is to help you make the right decisions when selecting a house sitting site whether it be international or country-based. This comprehensive, regularly updated review of the most popular house sitting platforms will help you make the right decisions from the outset. You'll find all the most reputable sites listed here.
Ready to go? Our best house sitting discounts
If you've arrived here and already know which house sitting site you want to use, you can make substantial savings on new memberships with our exclusive house sitting website discounts. Here are our most popular house sit discounts for our favorite sites:
25% TrustedHousesitters Discount (no code required)
50% HouseSitMatch Discount (code 50HSMAG)
10% HouseCarers Discount (no code required)
15% Aussie House Sitters Discount (code HSMAG15)
The house sitting value exchange - free pet care for a place to stay
If you've arrived here with no idea about "what is" house sitting, let us explain. House sitting involves a home owner leaving their property, possessions and pets while they go off on their own travels. A mutually beneficial value exchange, generally built on trust rather than money, allowing house sitters to live in the home for free, while taking care of the pets and looking after the property.
We've traveled the world staying in over 120 homes, looking after pets while their owners are away. For pet owners there are added benefits of saving on pet boarding costs, plus the reassurance of knowing their pets are being cared for and loved by other pet lovers. Pet sitters provide their time and their love making sure their charges follow familiar routines at home. The best place for a pet to be while you travel.
You can read more about starting out with house sitting in our popular post:
Getting Started as an International House Sitter
Can I get paid to house sit?
All of our house sitting website reviews are based on the model of a fair exchange of value, where money doesn't pass hands.
It is possible to employ the services of paid pet sitters, but they tend to be advertised on specific websites like Rover.com in the USA, or Pawshake.co.uk in the UK. For sitters you generally need to be locally based as these websites work by location.
Which house sitting platform is best for me?
We review our favourite top 5 international house sitting websites and also give links and info about some of the country specific house sitting sites. You'll find these in countries where house sitting is especially popular like the UK, USA, Canada, Mexico, Australia & New Zealand.
Each house sit platform has their own unique features and benefits. A combination can sometimes be the best way to achieve effective coverage of the destinations on your wish list.
Our Top 5 International House Sitting Websites Reviewed for November 2021
1. TrustedHousesitters review
Price: $ 129-259 USD per year (3 tier membership new June 2021)
Discount: 25% (Click here - no code required)
Established: 2010
Email Alerts: Yes - set up your own saved searches
ID Checks: 2 levels (+ Criminal Background Checks in USA on some memberships)
Insurance: Home Protection, Sit Cancellation & Liability options
Reviews: Yes
APP Version: YES
Age limit: 21 years
TrustedHousesitters is the largest, most well known of the international house sitting websites. You'll find the widest choice of house sits around the world, but they are particularly strong with sits in the UK, Europe, Australia and the USA. If you Google house sitting, this is the site you'll probably see first. The company recently introduced a 3-Tier membership plan with some new features, including "Sit Cancellation Insurance" at the PREMIUM level.

Here's our review of the new tier membership features for sitters and owners. Safety is high on the agenda at the moment with mandatory Criminal Background Checks in the USA reintroduced for STANDARD & PREMIUM members. We are told they are still looking for reliable providers in other countries. It's also mandatory to upload a minimum of 5 images before a listing can go live and owners are being guided to include internal pictures.
Opting for the STANDARD or PREMIUM subscriptions allows you to really choose the package that works best for you. The new sit cancellation and liability insurance cover provide extra reassurance for part-time users, but are especially beneficial for full-time house sitters traveling in the USA.
Despite being the most expensive, you get what you pay for. There's plenty of choice a recent cash injection means they are expanding rapidly into the USA. This is all good for you, as there are more sits to apply for giving you a better rate of selection. By using our 25% discount you'll find TrustedHousesitters on a par with some of the other larger international sites.

Home owners are charged the same as house sitters for annual membership, which we believe helps to show commitment. Owners are less likely to be "testing" the water as we've found on other less expensive or free websites. There's a reduced fee if you join as both a house sitter and a home owner.
This website is run as a professional business with a team of 50+ people, including an extensive customer care team with access to a vet support line. The website has been improved and updated time and time again over the years with the latest version offering a useful app version for use on your smart device. There have also introduced a Community Forum run on the Discourse platform which allow members and non-members to chat about all things house sitting, pets and travel and interact directly with the THS team.
New features for 2021 - A newly added option means it's now possible to set up Sit Searches with notifications for search criteria on both the desktop and app versions. These are linked to daily email alerts to give you instant news of new sits in destinations of your choice. Or simply set an "ANYWHERE" saved search for daily inspiration!
TrustedHousesitters Insurance Cover


TrustedHousesitters is currently unique among the international house sitting platforms in that it provides a selections of insurance policies, depending on which of the new 3-tiers you select for membership. Home owners can choose home protection and/or sit cancellation, and for sitters, 3rd party liability or sit cancellation is on offer. Terms and conditions do apply and Covid-19 related issues aren't covered, so do get access to and read the small print.
Is Trusted Housesitters good value for money?
We would say yes, most definitely. There are lots of members in our Facebook group who have started out with TrustedHousesitters and found quick success by putting effort into their profile and application. It may be expensive but it does have a large customer base so plenty of sits and sitters to choose from. If however, you prefer a smaller more intimate company, keep reading... there are plenty to choose from.
Definitely one to have at the top of your list - some of our best house sits have been found through this platform and it remains our favourite house sitting website!
2. Nomador Review
Price: 65 euros per year / 25 euros per quarter
Discount: None, but FREE TRIAL available here
Established: 2014
Email Alerts: Yes
ID Checks: Multiple options - free ID verification
Insurance: No
Reviews: Endorsements and badges (no external references)
APP Version: YES (for member messaging only)
Age limit: 18 years
Originally operated as a French house sitting agency called Ilidor, Nomador has retained a French connection and so there are still a lot of house sits in France. But as a business they are now truly global. So, international house sits are prolific and they continue to grow steadily every year. We found the site a little more difficult to navigate but following a major aesthetic overhaul, we find it much better and easier to work with. It is now full of great tools and helpful advice for house sitters and home owners alike.
When searching or browsing "available" sits make sure you go to "filters" and make sure the "include past house sits" is not checked, otherwise completed sits will feature in your search.
The website's modern design has a unique trust-based identity upload area for passports, driving licenses and other forms of ID. This identity check provides extra reassurance for homeowners. Your uploaded information is not shared and it is disposed of once the verification is complete.
Nomador also has a unique "Stopover" feature where home owners can register to offer free accommodation to members in-between house sits, or simply to build friendships. A bit like couchsurfing for house sitters! They also have a filter for assignments that are suitable for house sitters with reduced mobility and for family friendly. The ethos of the platform is to grow the sharing economy and build community and trust - we think they have really succeeded with this!
The rate is the same for both home owners and house sitters. There is also the "Nomador Discovery Option" available FREE OF CHARGE which allows new house sitters to apply for up to 3 assignments. This free option extends to home owners too and you can list your first house sit for free.
The Nomador App


An instant messaging service reserved for members who are already registered on Nomador, whether they are using the Discovery Option or Confidence Option. You can send messages to other members, get notifications on your phone of new messages, send photos and make audio and video calls when you have internet access. The app is available in Android and iOS versions on Google Play and the App Store.
3. HouseCarers Review
Price: $50 USD per year for sitters
Discount: 10% by clicking here - no code required
Established: 2000
Email Alerts: Yes
ID Checks: Free ID Verification by mobile, passport or driving licence
Insurance: No
Reviews: 2-way review system
APP Version: No
Age limit: 18 years
HouseCarers was the first house sitting website to offer a job match service back in 2000 - they are based out of Australia. A long-standing, highly respected international site, with listings in countries around the world. Definitely worth considering. Our first ever long term house sit was with HouseCarers, looking after a beautiful luxury home in Australia with a large pool and a fabulous view! We were very happy with their service and ease of use of the website.
HouseCarers has a limited FREE trial, but you won't be able to upload photographs or contact home owners, so if you are serious about house sitting it might be better to bite the bullet and pay the membership fee. The free option will give you daily alerts, so it could be worth a try just to see what you get offered.

The review system was updated and owner members can now leave a review or endorsement of their sitters. House sitters in return, are encouraged to leave feedback or add a review of their experience which will appear on the owner's adverts. There's also the ability to send a reference directly to the sitter so they can upload it to their private reference library, accessible only by logged in homeowners.
There's been no charge for home owners on this site until this year when the HouseCarers premium membership for home owners was added for a small fee of $25 USD. This will give you a verified "supporter" badge on your profile, and the ability to add private notes to a house sitter profile. You can also participate in a reward program, where your 12 month membership will be extended to 18 months.
4. HouseSitMatch Review
Price: £69 GBP per year Standard / £89 GBP per year Premium Plan
Discount: 50% by clicking here - Use code 50HSMAG
Established: 2013
ID Checks: Free ID check for ALL members on registration through Hooyu
Insurance: No
Reviews: 2 way reviews on completion of sits
APP Version: No
Age limit: 18 years
HouseSitMatch initially focused on house sits in the UK and Australia but new countries are being added all the time. Their strength is Europe and the UK but more and more international house sits are appearing. Less house sit postings mean those listed are snapped up quickly. Founder, Lamia Walker, offers a very personal house sit match service and is always available to help and advise new members. On this smaller site your chances of securing a house sit assignment are much higher. There is an option when searching to filter "active house sits only", as this platform does show completed jobs when you first browse or search.
The premium subscription is worth the extra money as you can load more pictures and a video. The website offers lots of great resources, has a new member chat facility and we've heard that this is a good website to contact if you are interested in family house sits.
5. MindMyHouse Review
Price: $20 USD per year - FREE homeowner membership
Discount: None... it's almost free as it is!
Established: 2005
ID Checks: None
Insurance: No
Reviews: Reviews on request - must upload
APP Version: No
Age limit: 18 years
Another popular international house sit platform that gets regularly updated and improved. The site is inexpensive to join at USD $20 a year and so you've nothing to lose really at this price! It's currently the cheapest house sitting website available. We haven't ever used MindmyHouse but hear good reports from other house sitters, as long as you carry out extensive due diligence. With no ID checks, it gets the occasional spammer or non-serious member that you'll need to filter out.
The website has a good messaging system and house sitting jobs search system with a useful map locator. There's lots of relevant information to help you get started and they have excellent downloadable resources. Home owners join for free.
There has been some criticism in house sitting forums about people posting sits that are more like workaway projects than house sits, but as platforms like TrustedHousesitters move towards advertising free trust based house sits only, perhaps this will be the place to find occasional international opportunities that pay. Remember if you are paid, you'll need to have the appropriate work visa if not in your home country.
Top house sitting websites by country or region
Some house sitting websites focus just on one particular country or region. If you are planning to house sit in the UK, USA, Canada, Australia, New Zealand or Mexico, then you might find it beneficial to subscribe to one of these more regional websites as well as an international site.
HouseSittersUK has always worked well for us when we've been looking for house sits in the UK, and the Aussie equivalent has been a real bonus when we've been house sitting in Australia.
This "House Sitters Group" has house sitting sites in a number of countries (UK, Australia, New Zealand, Canada and America), but you do have to sign up to each one which can be expensive if you are an international sitter. The membership prices vary by country. You can interchange your references between the platforms which is a bonus.
Because some of the platforms are free for homeowners, some will have signed up to a larger international sites as well as well as a regional website so there may be duplication of sits - you'll need to weigh up whether you think it's worth it.
1. Best house sitting websites in Australia
Australia is a great place to house sit. Many Aussies love to travel and usually for extended periods. This means properties are available throughout the year in some great and often interesting locations.
There are more country specific house sitting websites in Australia than in any other country. If you are planning to spend an extended period of time in Australia house sitting long term, then we would definitely suggest you sign up to an Australian specific website. It's also a good country to get started and build your references, as like the UK there is an abundance of house sit jobs available.
If you are an Australian looking to house sit mainly in your home country then one of more of these sites are worth subscribing to. But we would definitely recommend: AussieHouseSitters - see discount below. If you want to know more, this link will take you to our indepth review of Aussie House Sitters
However, if you have subscribed to House Carers and/or Trusted House Sitters, you'll have a large selection of Australian assignments available to you. Browse the international house sitting platforms first (if you are already signed up), and compare to your country specific selection to see what sort of duplication of assignments exists.
AussieHouseSitters.com.au 15% discount - code HSMAG15
MindaHome.com.au
HouseSittingTasmania.com.au/
HappyHousesitters.com.au
And remember that HouseCarers are based in Australia, so whilst an international site they have a lot of experience of Aussie house sits and feature many.
2. Best house sitting websites in New Zealand
KiwiHousesitters.co.nz 15% discount with code HSMAG15
Housesitters.co.nz/ This is a paid service (not a free exchange)
3. Best house sitting websites USA & Canada
Given the size of America and the number of house sitting opportunities that exist, there are very few country specific house sitting websites available. Although an international site, you will find that TrustedHousesitters has a lot of USA sits available.
This is probably why House Sitters America do so well. They charge only $30 a year for anywhere in the USA. Some sites charge by zones or states so this really is a good deal. The website runs and operates easily using the same format as House Sitters UK, a company we've had great personal success with.
Update 2021 - HouseSittersAmerica has had a great make-over with new functionality following that of associate company HouseSittersCanada and others in this group. Check out the filters ... you can now see both "family friendly" and "pet friendly" sits, so if you want to house sit with kids, or your own pets, the selection process is much easier! 2-way reviews have also been introduced. There's also a new option to list as a paid sitter.
HouseSittersAmerica.com 15% discount - code HSMAG15
HouseSittersCanada.com 15% discount - code HSMAG15
4. Best house sitting websites in the UK
House sitting in the UK is extremely popular and there are two great country specific websites. In our first year of house sitting we subscribed to House Sitters UK and we found their website really easy to navigate with some of the best features we've seen to date. We had instant success when we joined up, finding two consecutive house sits within just a few weeks. They have a great instant messaging system, cost only £29 for a year and currently have over 100 assignments listed.
Now we use TrustedHousesitters for all our UK house sits as they have so many listings and it easier to get selected if we apply straight away. HouseSitMatch is also UK based but with less competition for the UK sits.
Again, as with Australia, you should compare how many of these assignments are featured on the international websites if you are only looking to house sit temporarily in the UK.
HouseSittersUK.co.uk 15% discount - code HSMAG15
MindaHome.co.uk
5. Best house sitting website in Mexico
With an influx of expats from America and Canada, Mexico is becoming a popular choice for house sitting and assignments are increasing all the time. Destinations such as Puerto Vallarta, Ajijic, San Miguel de Allende, Mexico City, Merida and the Yucatan in general, offer year round opportunities.
To help facilitate the growing demand, HouseSitMexico was relaunched in 2016 with a smart new interface, and the option to select different regions of this vast country. They charge $79 USD a year. Rates are the same for home owners and house sitters. If you are both, there is NO additional charge. Once a member you can use either service. They've had some good discounts for new and renewing members throughout the pandemic.
Are there free house sitting websites for sitters?
There are currently no free websites that we are recommending.
Are there free house sit sites for home owners?
All country based websites in the Aussie/Kiwi/UK/America/Canada group are free to home owners. As is HouseCarers, although they do now have an enhanced paid version too. MindmyHouse and some of the smaller Australian house sit websites are also free to home owners.
Can I get paid to house sit?
More and more pet sitting sites are providing options to offer pet related services such as pet sitting, dog walking, grooming, drop-in services, and house sitting. It's up to you to advertise your services to pet owners looking for pet care.
This is a very different model to the free-exchange house sitting option, but suits a lot of people working in their own countries, where they want to establish a small pet care business, or to use along side international house sitting when the option to charge isn't generally available because of the need for work visas.
One of the biggest pet sitting sites is Rover.com. They currently operate in the United States, Canada, Germany, Spain, France, Italy, Netherlands, Norway and Sweden but are expanding every year. A year or so ago they absorbed Dog Vacay, and they are now taking over another small pet service company.

Rover is a platform to find and offer pet care services, and they facilitate payments, but all transactions are between you and the pet owners. You don't pay to join, but you will pay a percentage of your earnings.
How do I become a house sitter?
House Sitting Magazine is a FREE online publication and the leading house sitting resource available for reading either on the ISSUU app or via the website as a flipbook. You'll find lots of informative articles about how to get started in house sitting. Download Issue 1 for the best "getting started" articles or go to the "Begin Housesitting" page here on the website.
Where can I get help and house sitting support?
House Sitting Magazine hosts one of the larger house sitting Facebook community support groups offering support and advice to new and seasoned house sitters. We talk about everything to do with the house sitting lifestyle, including pets and travel, so come along and join us there for some very active discussions on a range of relevant topics.
Join over 10,000 like-minded people in our Facebook House Sitting Community Support Group by clicking here.
Most of the house sitting platforms also have a support line to help with any problems that you might encounter. TrustedHousesitters has recently launched it's own forum for members.
Sign up for our "how to become a house sitter" online video course
Our online house sitting course costs just $47 USD and covers all the techniques we've used over 8 years and on 100+ sits. Find out more at this link Become a Successful International House Sitter
We show you all the tips and strategies you'll need to secure the assignments of your choice time and time again. Discover the secrets to becoming a credible, well respected house sitter, even as a newcomer. Short-cut the research and trial and error.
As well as easy to follow, step-by-step videos, you'll find all the checklists and downloadable resources, you will need to get started.
You can find out all this information for yourself, as we did originally, but what this course will do is fast-track your getting started process. You'll also get the ongoing support of our active Facebook community where you can share your adventures, and get valuable feedback from other travelers and sitters.
Remember, house sitting isn't only about free accommodation


There are responsibilities that are an important part of the relationship between home owners and sitters. These should never be taken lightly. These resources guide you through the process of becoming a successful house and pet sitter, make you aware of all the relevant house sitting best practices, and ensuring that the experience is win-win-win for you, the home owner and the pets!
House sitting pandemic update
The COVID-19 pandemic has resulted in many of us who live for travel and house sitting, temporarily putting put our lives on hold. Those who have continued housesitting have been subject to stop / start house sitting opportunities as restrictions are placed and then lifted, repeatedly. Our advice, as travel slowly opens up again, is to make sure you have a backup plan in place.

Here are some ideas for backup plans if your sits are unexpectedly cancelled.
Common sense safety guidelines for handovers and sits
Covid 19 backup plans for full-time house sitters
Last updated on December 2nd, 2021