Our Nomadic Lifestyle – House Sitting on Land, Liveaboard at Sea
Last updated on November 10th, 2019
How does one end up in a traveling nomadic lifestyle?
Well, I had always wanted to travel, but a nomadic lifestyle really wasn't on the cards… until I met a sailor!
Before my husband asked me to marry him he asked if I would consider living on a sailboat. I said, "sure", but forgot to ask what size.
So now I live with my consequences, on a 36 foot sailboat. But, we're in the Western Caribbean, so I won't complain much.
Testing the waters
We left the rat race in 2014 after ten years of planning, saving and frankly, working my husband's butt off, to refit our boat. We wanted out, even if it was only for a few years. I wanted to experience a nomadic lifestyle with all of its people, cultures and wonders. Hubby wanted to sail.
After leaving the States with a very small "booty", we had to keep the purse strings tight. A little over two years and many nautical miles later we needed to return to refill our stash. But, we knew it was going to be difficult to keep from getting stuck in the world of plenty. So we went back with strict guidelines and plans to stay with family. Our thoughts were to not get too comfortable.
Looking after pets opened new doors
While back, I fell into house sitting for a couple of friends who needed to leave their fur babies while they went away for work or vacations. Since we were staying with family and a break was more than appreciated, it really worked for us. It also helped with filling up the "cruising account".
Soon these sits opened doors looking after pets for new friends. Steve and I enjoyed being in different places here and there. It was much like cruising as we changed locations often.
The gypsy and the sailor
During this time away from our boat I'd been thinking of ways to travel to places outside the Caribbean without sailing. I'm more of a gypsy than a sailor. Plus we always needed to wait out the hurricane season in a safe place.
I began dreaming of road trips and of flying to visit friends we'd met on our travels. Then I recalled a couple we met along our travels who were hanging up their sailing legs for house sitting in countries such as Australia and Asia. My research began on house sitting abroad. It seemed to be a realistic way to travel during hurricane season on a shoestring budget.
Our nomadic lifestyle emerges
It wasn't difficult to find several Facebook groups. Within those groups I found several people who had house sat abroad for years and were sharing their experiences and advice. There were also websites that host people looking for house sitters looking for houses to sit for in particular locations. Much like the community of Cruisers there is a whole community of house sitters.
House sitting appeared to be a viable option as another way to live a nomadic lifestyle. We may be fooling ourselves, but we seem to be happiest when traveling. Our home is wherever we are together. We don't need the whole house and yard, we prefer variety in our lives.
Traveling seems to enhance my senses, almost like a high. Taking in the buzz of new cities or villages. Going through mental lists of what is different or the same. Then soaking up the tranquility of all the natural beauty of the new surroundings. From bird calls to the hum of the traffic, whether that be from boats, cars or people.
The treasure hunt of life
Sailing to a new location is like being part of a treasure hunt. You have your map and tourist books and you search for safe anchorage and where you can go ashore. You find a location that has all the essentials like good WiFi, groceries, fuel and perhaps even a little entertainment in the close vicinity. Cruising is a pretty physical way to travel, but it also includes a lot of relaxation in some grand locations.
We've had both lovely and exciting experiences.
There was one fairly long sail across the Gulf of Mexico – Houston, Texas to Isla Mujeres, Mexico. We navigated through oil rigs, endured heavy rain squalls at night, and even managed to get a sheet (rope) stuck in the prop. But by contrast, we also experienced wonderful night skies under a blanket of stars, sparkling luminescence that surrounded the boat, and a pod of porpoises that led us to port.
Learning from our cultural differences
The cultures we experienced could be thought poor, but to us they were beautiful, filled with close communities and families, full of love and laughter. All of these things are priceless in the world we currently live in.
It saddens me to watch others go into towns and villages and try to "help", mostly by pushing "their" ways onto a perfectly functioning culture.
I'm not saying everything is functional in those places. Yes, some things do need assistance or reconfiguration, but it's a fine line because you don't want them to lose what we have already lost. There is something to say about not chasing the mighty dollar in favor of close family and community. Of course this is all my opinion, many might disagree with me.
Learn to see the beauty in everything
Having the ability to see the beauty in all conditions is a great asset in our nomadic lifestyle. Most people would rather stay in their comfort zone with the unrealistic idea that they are "safe".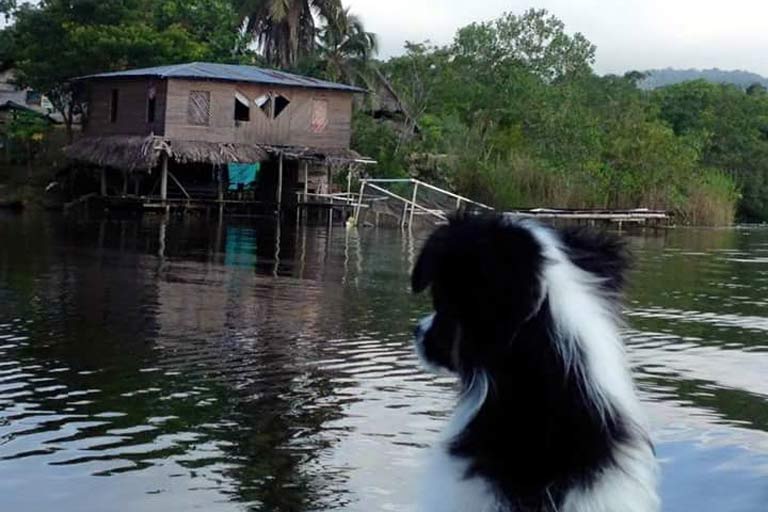 When we do go through undesirable or difficult situations we reserve those stories for great laughs. It is amusing to see the expressions on the faces of our family and friends when we tell them these stories, because they don't seem to see the humor in them that we do.
One day in Mexico, I walked into a meat market. It was just a small room, with a door open to the street and a pig hanging from the ceiling. Not speaking Spanish fluently, I had to figure out how the process worked to purchase some pork. Being from the States, I use pounds not kilograms. I'm also not very familiar with the cuts of meat and where they are located on the actual pig.
Instead I just used lots of hand gestures and smiles until I got what I was looking to buy. Then I prayed we wouldn't get sick from it hanging in the shop all day, unrefrigerated. However, the meat was delicious and I went back every week for more.
We even enjoyed the dogs that roamed the streets with a purpose. Most Americans thought of them as homeless. These dogs weren't without a home, they were simply free – free to roam as we were with no fenced in yards. Like I said, the people in communities were very close, almost like family. These dogs also had a very fine palate, no taste for what we think of as "Dog Treats".
Saving a street dog
That being said about the free roaming dogs, I did once come across a little female pup in Providencia, Colombia that was very sick and abused.
This pup had mange and most of the locals were very concerned that they themselves, or their pets would catch it, so they were very cruel to her. She lived at the city boat dock and park, which is where everyone on the island goes for their weekly shopping.
Some of the locals were more concerned and fed her, but I didn't realize this until I found the island vet and he came out to treat her. When he arrived many women came out and voiced their concern, begging him to help her, but they weren't offering payment for his services or for the medications. Fortunately I was.
Dealing with ridicule
The pup was finally treated and fed, during which time I experienced ridicule from the other sailors and locals for intruding. The sailors felt I was being mean to the dog because they thought she would get used to the food and attention, but eventually I would leave. The locals were warning me that I, or worse our little dog Schooner, could catch mange. I continued to educate them on her condition and worked with the more caring locals, by giving them food and paying for her to be fixed and treated by the vet.
By the end of our two month stay she was much healthier and had two adoring parents. She still roams during the day but has a home to return to for food and shelter. I named her "Isla" since she is an island princess.
We have completely enjoyed our experiences abroad and can't wait to add more, whether by land, sea or air. Now we just have to fund it – that's the tricky part! Thankfully this world is ever evolving and as long as you think outside the box everything is possible in some form or other.
I don't know what is next for us, but I'm excited to discover what it will be and I know I will grow from it. However, I do believe that house sitting internationally will fit perfectly into our nomadic lifestyle.
Tracie Wilson-Boyd – Tracie and Steve Boyd met back in 2002. Tracie (an educated Sociologist) has always been a gypsy at heart, while Steve was a second generation sailor. Together they spent over ten years planning and saving so that they could one day sail away.
After buying and renovating a sailboat they moved aboard in 2010, finally leaving Texas in 2014 to set sail for the Western Caribbean.
Now they work when necessary and travel in their home as much as possible, with the belief they should live each day to the fullest. For Tracie and Steve, memories, relationships and love are far more important than "things". You can read more about their lifestyle at: www.sailingsagasea.blogspot.com