Nomadic Retirement Travel Ideas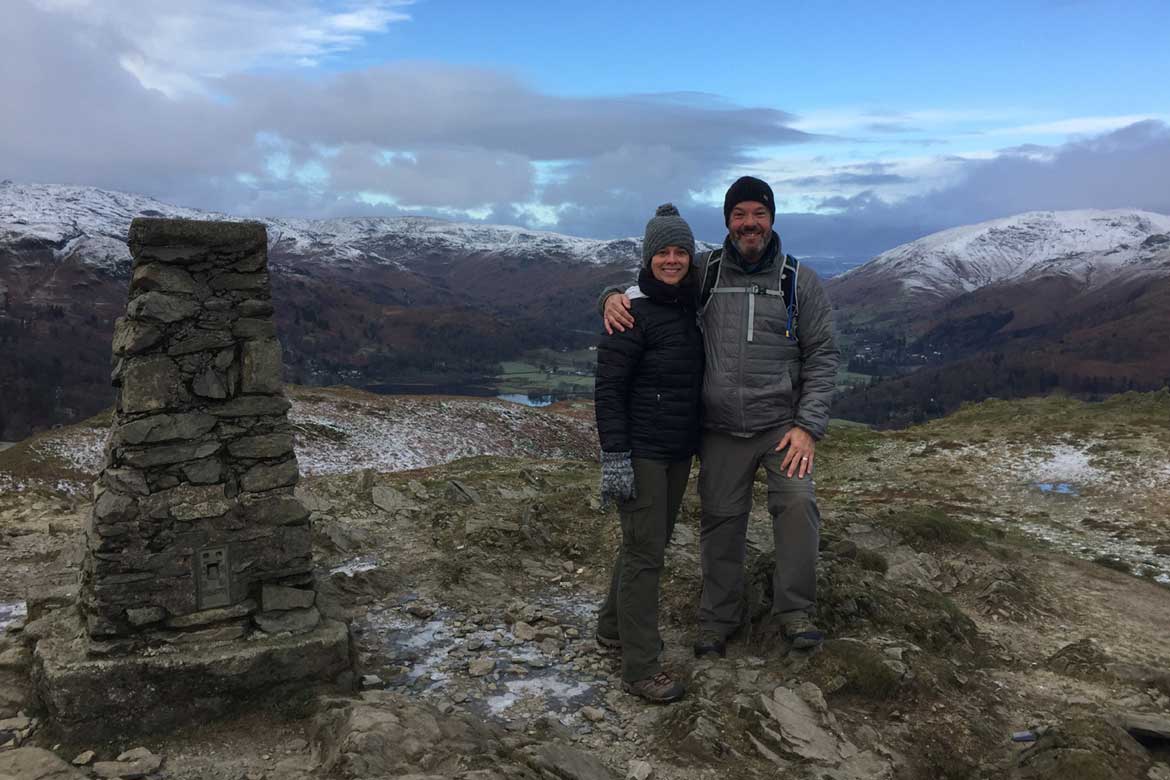 Our workaway and house sit adventures in the UK
My husband and I are academia dropouts. We retired from teaching at Tarleton State University in Texas, USA in May 2017, sold our house and most of our stuff, put the remnants in storage, and now travel full time. We spent November to March 2018 house sitting in the UK and joining Workaway projects.
It was AWESOME!
Our experiences were all so interesting, and they were sprinkled with unexpected places and people along the way.
Planning to spend time in Europe in the fall, we knew we would need to leave the Schengen region so we wouldn't overstay our visa. The Schengen zone includes most of Europe, and as an American traveling on our US passports, we are allowed to be in Schengen countries for only 90 out of 180 days. The UK is outside the Schengen, so that's where we decided to go.
Our first house sit in the UK
The first house sit we set up was through TrustedHousesitters. I wanted to find a place where we could be at Christmas where our adult children could join us. Our host was wonderful when I asked her if that would be OK – she even offered to show us where the Christmas decorations were so we could make the season more festive.
So that is how we found ourselves in Blandford Forum, Dorset, UK for 3 ½ weeks taking care of 2 wonderful dogs – a Golden Lab and a Springer Spaniel. We also got to take care of their two cats.
We had never been to this part of England before so we had great fun exploring the area, usually with the dogs in tow.
One day we loaded the dogs up in the car and went to Corfe Castle, the 12th most important castle in England! It was pretty incredible and the dogs were great.
We also took the dogs and hiked Hambledon Hill, a terraced hill from the Stone Age in Child Okeford. It was SO windy and cold on top but it was also so much fun! It was super muddy and we were freezing, but we had a great time. The dogs enjoyed themselves too.
We stopped at the local pub, The Baker Arms, for a pint and to warm up. The dogs were totally accepted even with their dirty feet. The owners bought the pub the prior week and had just moved in but they had dog biscuits ready for their four-footed friends.
For lunch we moved on to The Saxon Inn, still in the village of Child Okeford. We had a great meal – soup, sausages, cottage pie, curry, pints and Christmas pudding shared by all for dessert.
Our favorite hike with the dogs was to Durdle Door on the Dorset Coast. It was a blustery day. The weather app said it was "dangerously windy" and I believe it. In spite of the weather, we went on the walk and it was absolutely fantastic. The Dorset Coast is beautiful with remarkable rock formations and brilliant waves crashing against the shore. We loved it and so did the dogs!
A house sitting Christmas away from home
Two days before Christmas we enjoyed lunch at The Langton Arms in Tarrant Monkton and it was SO good. We sat by the fire and had a great meal. The thatched roofs in this village are enchanting.
After lunch, we went to the Langton Arms' butcher and picked up the pork we needed for Christmas day. This butcher was incredible. They were closing when we arrived but they were happy to take care of us anyway. He prepared us a special cut and it turned out to be absolutely delicious. We also went to No. 8 wine shop, a fantastic wine store out in the middle of the country.
The Christmas Eve service at Salisbury Cathedral was amazing! We sat in "the quire" and were right beside the choir which was mostly children with a few adult voices. The music was gorgeous. It was a beautiful Evensong service and the church is glorious.
After the service, we went to The Anvil in Pimperne and had beer and chips (French fries). We had forgotten to get brown sugar at the store which we desperately needed for our cinnamon rolls on Christmas morning.
The kind people at the pub rescued us in our moment of need and gave us brown sugar to go!! They were awesome! We went "home" and had smoked salmon and British "pigs in a blanket", which are sausages wrapped in bacon. It doesn't get much better than that! The cinnamon rolls were terrific the next day.
Christmas at our home for the holidays was warm and wonderful! The house had a fabulous kitchen with an AGA, a cast iron range cooker and oven. An AGA is always "on" so you don't have to wait for it to heat up. We had never heard of an AGA before and were a bit tentative about using it, but it grew on us the longer we were there.
We cooked for 3 days straight to prepare for our family Christmas dinner, recreating a fantastic meal we had enjoyed several years earlier at Momofuku Ssäm Bar in New York City. We made pork buns and roast duck. They were quite spectacular, if I do say so myself!
We thoroughly enjoyed our time in Blandford Forum over the holidays. It was strange to not be "at home" for Christmas but house sitting in the UK turned out to be very special.
You can browse house sits in the UK and around the world on TrustedHousesitters for free, and benefit from a 25% discount if you later decide to join at this link
Workaway opportunities
We enjoyed other house sits and Workaway projects in the UK as well. We worked away on an island in the Thames for a woman who asked us to build shelves and place items on eBay. We also did a Workaway in the Lake District where Greg helped install a kitchen before the family hosted Christmas dinner, while I painted walls and scraped paint off an antique, intricately designed fireplace.
Our hiking in the Lake District was some of the best in our year of travel even though in the winter it was getting dark by 4pm in the afternoon.
Another Workaway in exchange for room and board, was for The Thatched Cottage (image above) in the New Forest, also in the south of England. We saw ponies and donkeys every day and got to work their terrific gin bar with over 80 different selections.
The Ribble Valley, Lancashire, UK
One of our house sits took us to an area where we would never have gone, had it not been for this chance to watch three fine dogs for 10 days. We absolutely loved staying in Wiswell, near Clitheroe, in the beautiful Ribble Valley.
In this area we found Burne's Wine Shop which was fantastic, our favorite pub, The Swan with Two Necks in Pendleton, FreeMasons, an excellent gastropub in an unexpected location, and absolutely the nicest people ever. We drove to York one day and Lancaster another, passing the most spectacular scenery while learning a bit of history along the way.All in all, our time house sitting in the UK has been fantastic. We are looking forward to doing it many times in the years ahead as we continue our travels.
Betsy Ball retired from teaching international business at a university in Texas and now travels full time with her husband. They extend their travel budget by house sitting and volunteering. Their travel business Euro Travel Coach creates custom itineraries and tours by design for European destinations.
Pin for later
Last updated on February 15th, 2021