Find the best house sitting sites for your needs – Updated Oct 2021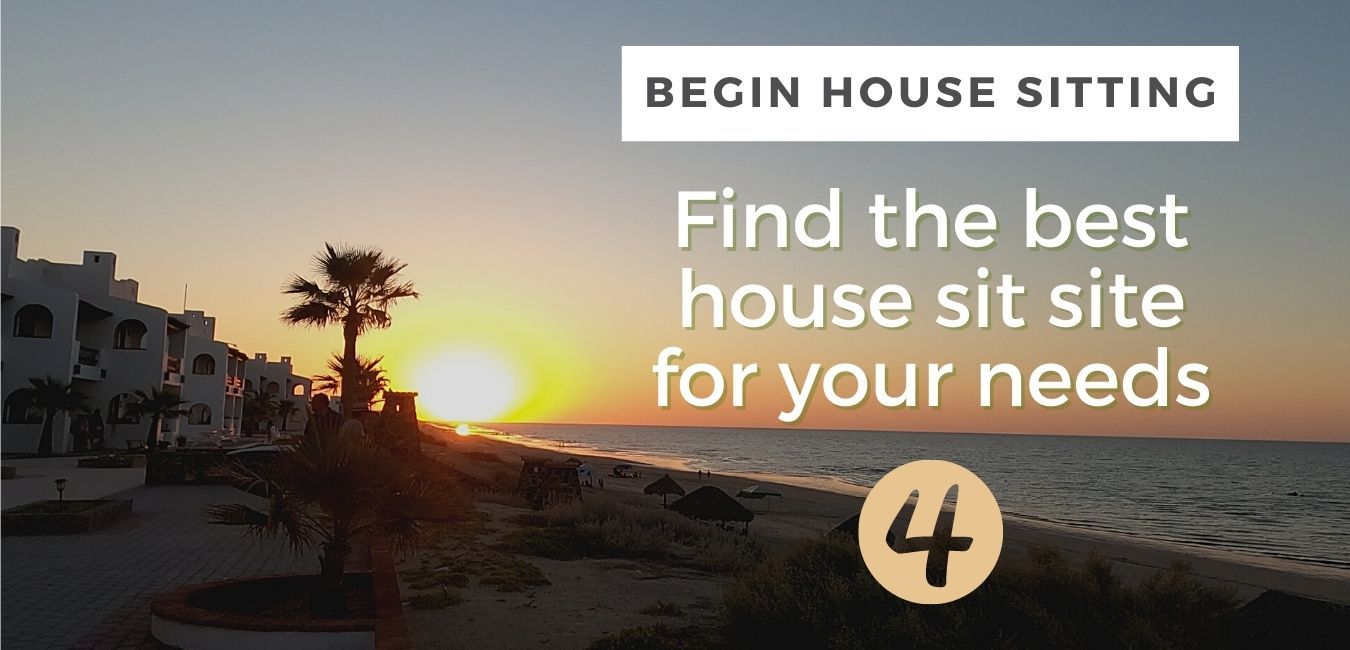 Table of Contents (click here to expand / collapse)
Choosing a house sit site - what you need to know

The secret's out - house and pet sitting has definitely become the latest way to enjoy local domestic and international travel, without breaking the bank.
But for many it's more than just saving money on travel. It provides a way to explore slowly and connect more meaningfully with the country and people you are visiting. Many life-long friendships are made through this more natural, slow travel alternative.
One of the biggest bonuses is that you get to spend time with pets and a wider variety of animals than you might ever have imagined! Does a small hobby farm tempt you, or looking after exotic pets? House sitting provides that opportunity!
Other more practical benefits include trying an area before buying or renting a new property, or saving money for a home deposit. But practicality shouldn't overshadow the real benefit of house sitting - that of providing pet love and care in the home, while all the humans involved get the chance to travel more. What could be better?
If you are new to the world of house sitting, this can be a little overwhelming. Growing popularity means more house sitting websites, groups and forums where you can both find and place house sit jobs, all over the world. In addition, you'll see a plethora of travel blogs all providing opinions about how to get started and where to look for the best house sit assignments.
Don't worry, we are writing from experience, eight years of international house sitting, and 4+ years of publishing House Sitting Magazine. We started out as home owners before we ever became house sitters ourselves and we've owned many pets over the years.
First off you'll need to know how to best connect with the home and pet owners who will value your service and who are keen to be part of the "free value exchange" house sitting community.

Several years ago we put together a detailed review of the top international house sitting websites, and a list of options by country. We keep this regularly updated with any changes, and include some of the best house sitter discounts negotiated through House Sitting Magazine.

But first we want to point you in the direction of some helpful advice to make sure you do pick the best house sitting websites for your particular needs.

So where do you begin your house sitting planning?
How to find the best house sitting website for you
We've done a lot of research and have personally tried many of the international and country based house sit platforms while pet sitting our way around the world. Honestly, some have produced better results than others, but the best sites are always evolving and improving.

As the less successful platforms have fallen by the way-side, there is now a core of well-run reputable house sitting sites that provide a safe and secure place for you to advertise your house sit services. Somewhere you can create a profile, upload references, request reviews, apply to house sitting jobs and find house sitters, ultimately finding the perfect match for your set of requirements.
While all the platforms have the same aim, to help you and the home owner find a match, they each work differently and have a varying degree of user options. At the end of the day it's really about finding the company that you best connect with. This might end up being several house sitting sites. As full-time sitters we tend to be members of 2 or 3 sites at any one time.
All of the more professionally run websites charge an annual membership fee so you'll need to see how your budget fares in this respect. Occasionally we've seen house sit sites that offer free memberships, but we've also seen all but one of these, come and go. The "free" membership is to try and build membership, and in an industry that has a good selection of large established platforms, it's hard to break into now without a lot of investment.
Remember that the annual savings on accommodation really do outweigh any house sitting platform membership fees. If you can't afford to join a house sitting platform then house sitting might not be the best option for your travel needs.
There are a several associated travel costs as well as day-to-day living expenses - the hidden costs of house sitting - so a house sit membership fee is likely to be the smallest expense you'll encounter, unless you are house sitting for a local experience.
With all this in mind, we've written this comprehensive house sitting guide and learning resource, to help make your selection process a little easier. By sharing our observations from almost a decade of using house sitting platforms, as homeowners and sitters, we hope to help you make an informed decision about where to look for house sits.

Our aim is to help you make the best choices as you set off on your house sitting travel adventures, whether for part-time vacations, or as a full-time nomadic lifestyle.
Choosing a house sitting website - quick checklist
Here's a quick checklist of the most important considerations when choosing a house sit platform. These form the basis of our more in-depth reviews in our popular unbiased and regularly updated house sitting website comparison guide.
Size and credibility of the house sitting company
Coverage - where do they operate and in how many countries?
Sitter to owner ratio - how competitive is it to get house sits?
Safety and security - ID checks and verifications
Contact system - do they operate a secure messaging system?
User experience - ease of use

Customer support -

is it 24/7 and international?

Extra services provided like vet line help
Price and renewal discount or referral schemes
Insurance - does the platform provide an insurance service?
We know you're excited, but before you rush headlong into signing up to a house sitting website, please take a read of some of the factors we've found to be most important when picking and joining a house sitting platform.

Coverage - where do I want to house sit?
Before making any decision about which house sitting platform to use, or beginning your house sit search, there's one initial question you should ask yourself:
"Where in the world do I want to house sit?"
This determines the site you pick in terms of their coverage. Knowing where you want to house sit will affect whether you pick an international house sitting website, or a more local country-based house sit site. You'll also need to make sure that you can get an entry visa for the destination of your choice, and for the length of time needed.
Remember we talked about the "hidden" costs of house sitting, well this is when you might also want to do some research into flights and other travel costs. It might be your dream to travel and house sit in the Caribbean for instance, but we've discovered that getting around, island to island is very expensive. Often a package holiday is much less expensive than organizing an overseas house sit.

Once you've decided and done your research, then you can start to assess the house sit sites that will work best for you.
1. Can I browse house sit jobs BEFORE paying?
We always tell people who ask us about starting out as house sitters that "It's free to browse" and in almost all cases it is. Before you hand over any money, take a look at the sites we've listed below, and view the house sit jobs on offer. If you have to give an email to browse, that doesn't mean you'll be taken to a payment option.
If you find a house sitting site where you have to pay to look at assignments, set it aside until you've evaluated all other possibilities. There's absolutely no point paying to join a site that doesn't have sits in the locations where you want to be - this is especially important to check during the pandemic, where options are more limited.
Here are our favorite Top 5 International House Sitting Websites we would recommend checking out for worldwide sits in 2021 (we cover country-based sites in item 3 below):
2. How many house sits are listed?
You'll find some house sitting websites are better at marketing into particular locations than others. For instance, House Carers is an international site, but they are based in Australia, so they have a lot of sits on that side of the world. Nomador on the other hand started out in France, and still has a loyal and extensive European following. The biggest site in Australia is AussieHouseSitters but you won't find sits anywhere else in the world - this is what we call a country based platform.
TrustedHousesitters is the largest of all the sites, based out of the UK, so as well as internationally, you'll always find a huge selection of UK sits on their site too. There's more competition for the popular destinations, so a good profile and a willingness to apply to a lot more sits should be part of your plan. But because of the number of sits advertised, you'll also find many sits in other areas where not so many people apply and your chances of selection will be higher.
TrustedHousesitters is the most expensive of the house sitting sites, but... you pay for what you get, right? We can help with a 25% discount if you click this link.
If the website has the ability to check both current and completed sits, use this as a way to check how many sits have been secured in a particular location in the past. You might just be looking during a low season, when in fact plenty of sits are available in your preferred location at other times of the year. They just haven't been listed yet.
3. Are there country specific housesit websites?
There are a number of very good country and regional websites in UK, USA, Canada, Australia, Mexico, New Zealand, and Tasmania. You can find links to them all here on the house sitting magazine website page - House Sitting Services.
Our experience has shown that combining an international platform with a more local service (where available) works very well for securing back-to-back house sits.
4. Can I get email alerts to help my house sit search?
One of the most important features a house sitting website can offer is the ability to let you know, on a regular basis, or in real time, when a house sit becomes available in your chosen location. It makes the house sit search process much easier and enables you to be one of the first to apply.
If it can do this within a date range, all the better.
As house and pet sitting becomes more popular, the competition will become tougher. You need to try and be one of the first people to apply, and email alerts will help you to get your house sit application to the top of the home owner's shortlist.
This will of course depend on your profile, relevant experience and references too!
5. Is there a 2-way review system?
In the same way that a home owner likes to read references from other home owners, we sitters too like to know that there's some feedback about the property and pets from other sitters, to help us make an informed decision. So our preference is for house sitting platforms that have reviews about home owners. Most sites now have this facility, but managed in different ways.
Check whether there are two-way house sit reviews available.
6. Will I be using a secure messaging service?
How can you get in touch with home owners to make applications or ask questions about a house sit? Most platforms these days have secure messaging services, and a method of storing and organizing your applications. Make sure it's nice and easy to get in touch with other members, whether home owners, sitters or both, and that it's a secure system.
The new GDPR regulations in Europe are helping to tighten up security of websites that hold personal information - check the platforms privacy statement if you are concerned about this.
Once we have secured our sits, we usually revert to "Whatsapp" as everything is encrypted.
7. How user friendly is the house sitting website?
In this digital age, our tolerance for poorly run and badly designed websites is reducing all the time. But we all have our own likes and dislikes in this respect.
Get a feel for each of the house sit platforms before you sign-up.
Fully evaluate the site, the feature lists, and the different options available before making your final decision.
Is the platform logical - is it easy to navigate around the site?
How easy is it to search for a house sit using the free browsing facility?
What search filters are available and as mentioned, do they have email alerts?
Is there lots of helpful info to guide you through the process of signing up or to help you become a house sitter?
8. Are adverts well described with photos?
A little pet peeve of ours is when a home owner puts up a listing without any photographs, especially of the pets, but also of the property we will be caring for. In fact, we no longer apply for sits without photos.
Some house sitting websites are better than others at ensuring their members complete this part of the process - not all sites vet the adverts so this is a good thing to check. TrustedHousesitters have recently implemented a system whereby a minimum of 5 photos must be uploaded, and home owners are now encouraged to list inside images. It's important to know where you'll be living, cooking and sleeping.
Similarly, check out the level of detail provided with each house sit advertisement. Is there plenty of information about the pets and the duties, the location, the home and so on?
Remember that as a house sitter you are generally part of a free, but fair, exchange of services, so it's important to know what the home owner is expecting of you during the house sit. The more detail you can see, the better you can assess this.
9. How much is it to join house sitting websites?
It can range from totally free, to $129 USD per year for the largest, most popular of house sitting platforms. TrustedHousesitters is now offering a tiered membership with extra benefits, including insurance options - this comes in at an even higher price, but insurance is becoming an important consideration.
As we mentioned earlier, a house sitting platform that isn't charging a membership fee is usually pretty new to the scene, and they're trying to build up a database of house sitters. Keep this in mind, as while it's always nice to find a free house sitting site, you could find your options for sits limited. We think it's better to combine the use of a free site with an alternative paid membership house sitting site too.
House Sit Tip for handling auto-renewals
When you finally sign up, check to see if you are put on "auto-renewal" - this is something that happens with many online service providers these days. There's usually somewhere in your settings to turn this off to take control of your renewals.
10. Does the site have customer support?
It's important to remember that house sitting platforms are essentially a match making service. They simply facilitate a connection between home owners and house sitters, and it's your own responsibility to make sure you do your own house sit due diligence. You should ask the right questions and pick a house sit that best suits you.
That said, it's comforting to know that there is an easily accessible customer support or help line where you can get advice or assistance should it be needed. Make sure you check out what this includes, what hours it's manned, and how involved customer services can or will get on your behalf, should there be a problem.
A number of the house sitting websites also operate discussion forums on Facebook, where you can ask advice of other house sitters too. And of course you can always join our House Sitting Magazine Facebook Group to get extra support from like-minded house sitters and home owners!
11. What if I lapse my house sit membership?
We don't all house sit full-time or even regularly every year, so it's a good idea to find out what happens to your profile, your references, your photos etc., if you let your membership lapse for a year or longer. You can test out the customer service facility when you ask this question!

Do remember that European sites by law are now unable to keep personal details beyond a certain time limit under GDPR regulations. Something to bear in mind.
12. Are there any associated benefits of joining?
You'll find some platforms have partner offers which will give you discounts on a variety of travel or house sitting services or additional services - TrustedHousesitters has a 24 Hour Vet Line for assistance and a forum for extra inter-member support. Nomador has a useful Stopover feature.
This may be of no interest to you whatsoever, but it's worth checking - you never know, there may be something that will benefit you on your travels.
Update: TrustedHousesitters has recently introduced a tiered membership with the highest tier offering sitter cancellation insurance - a very useful option especially during global pandemic travel restrictions. We hope this will be extended to house sitters this year too!
13. Is there a house sitting app version?
This obviously isn't essential, but if like me you spend a lot of time browsing sits, it does make that process easier if you can do it on your phone from anywhere.
TrustedHousesitters led the way with their app which is available for Apple and Android devices, and although we still prefer to do most of our messaging (ease of typing) on the laptop version, it is great to check messages, read welcome guides, and for setting up date based alerts.
The Nomador app was recently released and it allows homeowners and house sitters to communicate more effectively and informally during a house sit. At the moment it doesn't allow sit or sitter searches or other features.
14. Can you check independent reviews online?
If you're anything like me, you'll like to check out independent review sites to see what is being said about the services provided by the company you choose. Just to be clear... these are reviews about the company, nothing do do with your own references, ID checks or homeowner reviews.
Both HouseSitMatch and TrustedHousesitters use TrustPilot, while AussieHouseSitters uses Feefo. I'm sure other platforms can be found on review sites too - a Google search should help with this.
As with any reviews, check out as many as you can - don't stop at the first bad feedback. Undoubtedly in an unregulated industry, there will be the occasional house sit that goes wrong, in the same way some people might have problems with a hotel or B&B.
House sits that go wrong are usually as a result of one or other of the parties involved not doing their due diligence or not being totally upfront about a particular aspect of the exchange.
Paying for a house sitting platform doesn't guarantee success but we believe it certainly helps!
Are house sitting websites worth it?
We think so, yes. There are people who try to get their sits by putting adverts on sites like Craigslist, but this is so open to abuse and privacy issues. You might be lucky, but you'll need to do a lot of due diligence. We have always preferred to use a reputable house sit platform that vets it's members, even if it does cost us a few hundred dollars each year.
Remember that, even a long weekend of house sitting will pay for the most expensive house sitting platform in terms of hotel or Airbnb room savings!
How can I learn more about house sitting?
Signing up to a house sitting platform is just one part of the process to becoming a house sitter. It's probably the easiest step, but this match-making service will not, by itself, make you a successful sitter.
You'll need to create a great profile that helps you stand out from other applicants. Some home owners in top locations get 100+ applications, and profiles that do not show references, pictures and a well-thought out introduction will simply not make it through to selection.
It's important too that you understand the original ethos behind house sitting.
Home owners are opening up their homes to strangers, allowing them to look after their most precious possessions. So for many home owners it's about personal connections. As no money is changing hands, trust has to be established by making things personal and building a relationship. This isn't always the case, but it's something to be aware of when applying for sits.
Think always about what you're bringing to this exchange, and don't make house sitting all about you and what you want.
Remember "fair exchange" at all times and you can't go too far wrong.
Last updated on October 1st, 2021