Mix It Up: Van Life and House Sits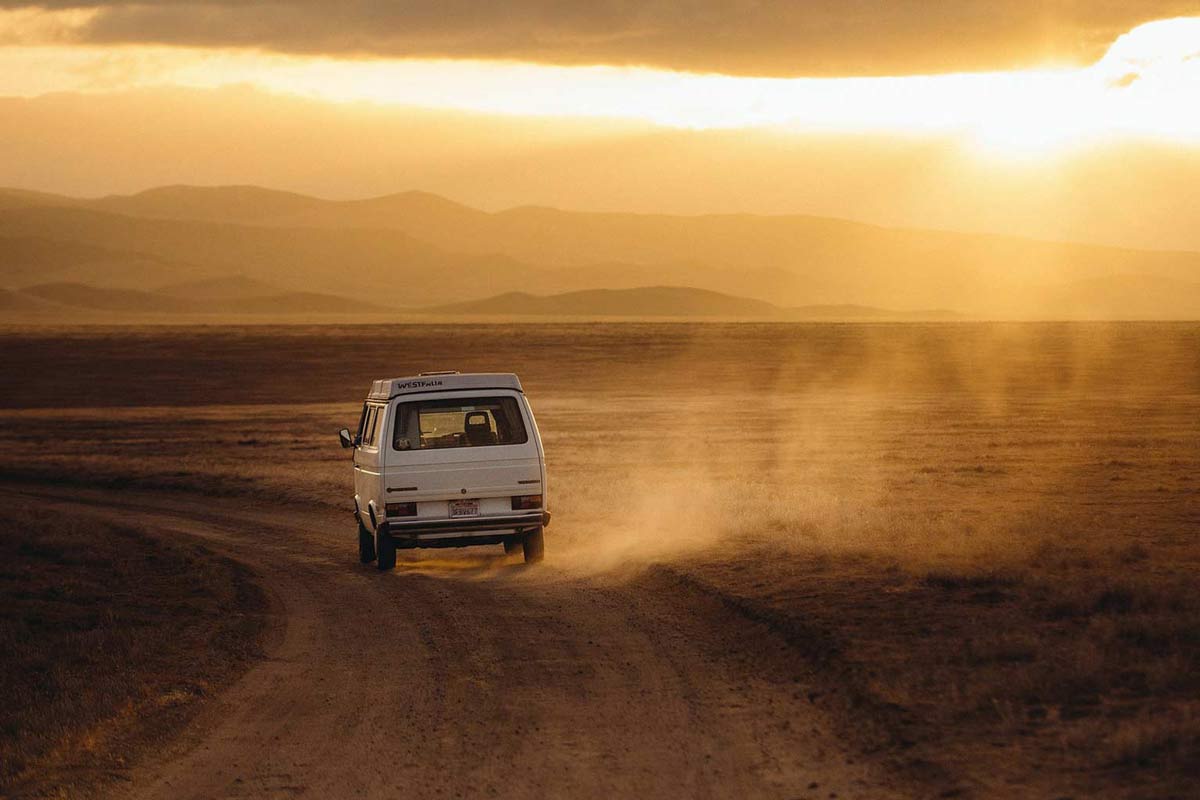 Creating your perfect travel lifestyle can take on so many different guises these days, but you really don't have to limit yourself to one option.
We look at how you can mix it up by combining van life with house sitting. Living in a van can provide limitless opportunities for travel and adventure, but for many it's nice to take a break now and then to alternate between road-tripping and the stability of a house sitting home for a week or two. It gives you time to recharge your batteries, pamper yourself with on demand hot water, and enjoy the luxury of extra space. It also provides the opportunity to cuddle up and get your pet fixes between your campervan or motorhome travels.
There are other benefits too when van life is combined with house sitting. You can provide more flexibility for our home owners - arrive a little earlier of leave later without having to concern yourself with booking or cancelling airbnb or hotel accommodation.
Take inspiration from our four contributors who have used house and pet sitting alongside motorhome travel, campervan living, and even touring with a caravan. And if you'd like to learn more about how you can begin house sitting take a read of our popular guide to international house sitting.
Table of Contents (click here to expand / collapse)
The Motoroamers, Karen & Miles
House sitting while balancing movement with stillness.
When the corporate matrix beat us into a pulp we knew something had to change - and that something was us. From that moment a subtle yet poignant shift began that would see us transition to a new life of fresh challenges and a huge dose of happiness.
Inspired by six weeks travel around New Zealand in a motorhome, my hubby had a moment of brilliance.
"Let's go travelling for a year around Europe in our own van," he said.
This was met with a mixture of horror and excitement. Temporarily horror won, although after working through my fears within 9 months we had conceived and given birth to a fantastic gap-year plan. We gave notice to our landlord and our jobs, packed everything into storage and headed into the European sunset.
Within 6 weeks we knew that going back was futile and, in a heart-beat, our year became forever. Our first 18 months were a mixture of learning, exorcising our stress demons and easing into our nomadic lifestyle.
Then unexpectedly our well-planned rental income dropped overnight after a midnight flit from a tenant. This was a painful blow to our "forever" plans. Sat over a beer we thrashed out our options. We could return to the UK to earn the deficit or save money instead. Now it was my turn for brilliance.
"Let's do house sitting," I said.
Being the pragmatic sort, I took immediate action. Within twenty four hours I had signed up to Trusted Housesitters, designed our profile, applied for my police check and produced a "Getting to know us" video. Within 48 hours we had our first interview, and within 7 days we had secured four jobs that would take us through the following 6 months.
Whilst house sitting was initially about saving money, it soon morphed into something more significant. We loved being able to park up our wheels and stand still for a while. Secretly a bath was a bonus and having animals in our lives again was a joy. Yet I was curious about whether house sitting would have me craving four walls. Happily, whilst house sitting is great, our 7.5m chariot is home now.
House sitting saw us through a difficult period and we are so grateful for it. Now, with our balance and finances restored, we are less active house-sitters, although such is the relationship between two of our first hosts, that they now plan their holidays around when we are in town. This feels so humbling.
The symbiosis between house sitting and travelling are like bread and jam. Whilst we may choose an alternative lifestyle away from the rat-race, having a place to stop is great. We get a pet and bath fix and touch four walls for a while; in return we can make a difference to our hosts' lives as they take leave of their flock. It's the perfect exchange and is something we continue to build into our full-time travel plans.
If you are new to motorhome travel, Karen and Myles have a comprehensive website where you will find plenty of information to help you get started.
Aussie House Sitters, Neil & Di Boucher
Who could have imagined what lay ahead when we left our home and headed off on an adventure of a lifetime? Having spent two years fitting out an old four wheel drive outback tour bus as our future home, we'd dreamed of travelling our great country of Australia with a plan to travel the country, picking up work as we went.
Friends of ours, who were house sitting in a country town, had invited us to stay the night, with the homeowner's permission. The home was lovely, but we agreed that house sitting was probably not for us. In hindsight that was simply because we thought it seemed too good to be true.
A few months later our friends were house sitting another home. We visited again and this time fell in love with the beautiful little dog that they were caring for. I think that's when the seed was planted - what a wonderful thing to do!
While travelling in Tasmania, on the first leg of our adventure, we learned that Di was about to have her first grandchild. Of course this changed our plans somewhat – we didn't have a home to go back to and caravan parks were not part of our budget. The obvious solution at this time was to look for a house sit in the neighborhood where we could be close the grandchild.
The first place we applied for became our very first housesit, and the beautiful Chocolate Labrador won our hearts. We've since been back to care for her twice more and have become lifelong friends with these first ever homeowners.
Excited by the way this first sit had worked out, we decided to see if we could find further house sits as we made our way around Australia. Our plan was to secure house sits jobs during school holidays to avoid crowded campsites, and to try and get house sits when visiting major cities, because of the lack of free, or low cost camps in those areas. This proved to be extremely successful and we often spent much longer than anticipated in an area.
Was this a good thing or bad? Well we certainly got to spend time with some beautiful animals in some amazing homes, far beyond our expectations, and we got to see much more of each area than we would have if we hadn't been house sitting.
The downside was that we weren't pursuing our original dream of wandering the highways and byways of Australia. But hang on - is that really a downside?
I guess the beauty of our setup is that it doesn't matter. We are thoroughly enjoying our time house sitting, and when we want a break, need to attend to medical issues, or want to head off exploring, we can do that.
What are the challenges of traveling as nomads in a bus? Well, we're still trying to de-clutter after four years, so are pretty squeezed into the bus between house sits - another reason why it's so nice to spread out a little when we ARE at a sit. The beauty of travelling in our home is that we have our worldly possessions with us all the time. On the odd occasion there isn't room for our bus at the house, we get around that issue fairly easily as we are often allowed use of the owner's car, and we find somewhere secure close by to store the bus until the house sit is completed.
Fishing is something we enjoy and we tow a small boat behind our motorhome, which doubles as a storage trailer while on the road. So far we haven't had too many problems finding somewhere to store the boat.
We treat house sitting as a professional business, even though no money changes hand, believing that we're getting fair rewards in return for looking after homes and pets with love. One reward is the people we meet and the friends we make, another is the free accommodation and services we get in return, but by far the greatest reward is the joy we get from the animals trusted to our care.
Four years and fifty house sits since leaving home behind us, our beloved bus was written off due to storm damage. We're in the process of replacing it, so I guess you could say we are homeless. But homeless doesn't mean we don't have a roof over our heads. With house sits booked pretty well through to the end of October in beautiful Far North Queensland, we're certain we will be cozy and safe while we look for our replacement bus home. Until we can continue our house sitting adventures around Australia, we will have a lovely home to stay in and beautiful animals to look after. What a life!
You can find our house sitting profile here at AussieHouseSitters
Jodie Davis and the "Big Lap"
In 2014 our family of four decided to take a year off and do the BIG LAP trip around Australia in a 4WD towing a caravan.
Our home was owned outright, so renting it out while we were away was the ideal way to fund our trip. Our property manager had already travelled around Australia with her family, and she suggested, "travelling full time in a caravan may get a little crowded at times, so consider joining Aussie House Sitters. It's a great way to care for pets, explore new areas and stay in someone's home".
We'd never heard of "house sitting" and I was curious about the idea.
Fast forward 2 months and we arrived in Western Australia. We were loving van life and the freedom to go where and when we liked, but we were really missing our dogs, who were now with friends back on the east coast.
It seemed a logical step to revisit house and pet sitting, and as advised we joined Aussie House Sitters, a little dubious that anyone would want a family of four to house sit for them. However, we found a sit that sounded like a good fit - two dogs on acres of land. We applied, had a meeting and clicked immediately with the owners and their gorgeous dogs.
It transpired that the reason they chose us was because their dogs loved kids, especially girls, and when they saw how our girls, Tia (14) and Lara (10) interacted with their dogs, they knew we'd be perfect.
The girls adored having dogs to hang out with and John and I enjoyed a break from the caravan. One dog couldn't walk far and was pushed along on a stroller. Our girls thought this was the "best thing ever" and loved their daily walks with both the dogs.
My passion is taking photos and making videos and so I'd send the owners regular updates, which they really appreciated. John fixed a few broken things in the house and we left the house cleaner than we had found it. We left a thank you card gift.
After the sit we received a brilliant review and this led to another sit in Perth, and then 4 months later, another sit in Cairns.
The beauty of having a fully self-contained van meant if we liked a spot we'd stay longer, if we didn't like a place we'd quickly move on.
To keep our costs down 70% of the time we "freedom camped" - on the side of a river, in parks, or in free camp locations. We also cooked all our own meals, which meant we could spend more money on special splurges, like swimming with whale sharks.
For our family the combination of van life and house sitting was perfect. We loved the freedom that our van gave us. But equally, we relished the idea of caring for people's pets and having some time in a house - with WiFi, actual bedrooms and a bit more space.
It truly was the best of both worlds – van life and house sitting - on our big lap adventure.
Would we recommend doing a BIG LAP of Australia?
Absolutely, it was the most EPIC thing we've undertaken as a family. It gave our family the travel bug and introduced us to wonderful world of house sitting. We are now part-time sitters who have enjoyed over 14 house sits in Australia and New Zealand.
Kelly Manis and her dog Booboo
After recently closing my dog walking business of 14 years, my dog Booboo and I cashed in our Toronto life, purchased a class B camper van and hit the road bound for Vancouver Island. Our plan (pretty much to have no plan), was to travel round Canada camping and house sitting by transitioning my business to Airbnbeast Nomadic Pet & House Sitting.
This would allow us to roam around but with options for accommodation between house sits. Our preference is for paying gigs but sometimes we accept free exchange sits through Trusted Housesitters and other placement sites. I figure not spending money is just as good as making it, so this system works out just fine.
Since I am travelling with my dog and a van, we look for more rural gigs that can accommodate us. So far it's been pretty easy.
Booboo has worked her whole life so she's used to being around other dogs and cats, and as it turns out she's curious about, but respects farm animals, so there were no issues with her chasing and stressing them out. She also has medical issues and we needed to plan ahead and set up vet visits for when we moved along. Fortunately we found a great vet in Sidney on Vancouver Island and we another one in Grand Forks, about an hour away from our 4 month winter sit on mainland British Columbia.
I was a little concerned about making the whole vet thing work and almost postponed our 5 year plan to do this, but I thought, no, this is our retirement and what better way to retire a dog then to travel around and expose her to different environments and smells.
I'm convinced this lifestyle is what's keeping her around. So, we will continue on as we are.
Aside from not using the van loo in 4 provinces (worried about the process of dumping the waste tanks), and avoiding the propane cook top (worried about it blowing up) until the need for coffee outweighed my need to live, van life is pretty easy.
Sure you can't spontaneously bust out a dance move while in the vehicle without cracking your head but that's nothing you can't fix by wearing a helmet!
This summer we're headed to The Maritimes for July and August. We have put the word out via local Facebook groups, hoping to secure some house sits. But either way we've got the van, summer weather and amazing sights to explore. Not to mention the wonderful hospitality on the east coast. We've had so many offers to "look us up when you get here", so we should be just fine.
We'll be back in Toronto for fall and winter this year. I've let my former clients know we are available and so far we have 4 sits lined up with others in the works. We'll see what presents itself over the winter months and head out again in the spring.
It's a fearless, faith based, self imposed nomadic lifestyle. My only regret is I didn't start sooner.
You can find out more about Kelly on her Facebook page Airbnbeast
Pin for later:
Last updated on February 27th, 2021