The challenges of downsizing to travel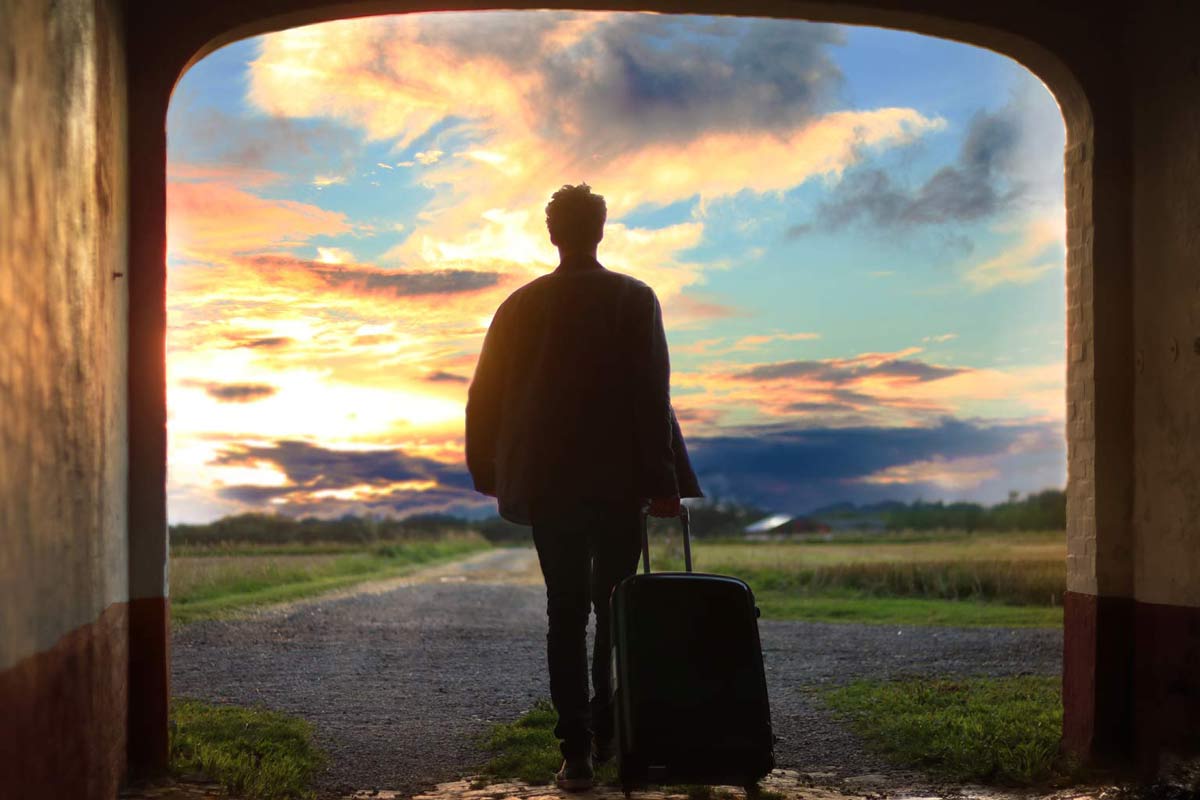 The point of no return
It had been one hell of a dark, wet and dreary day back in the winter of 2012. We'd both had to contend with long traffic queues on several of northwest England's motorways during our daily commute to and from work. And we were truly glad to get home.
Once the door to the real world was locked, I turned to my husband and quite firmly declared "I don't want to do this anymore. I want to travel the world and start living again."
Thankfully he agreed and, within days, we'd formulated a plan which would see our lives change forever. We'd resign from our corporate jobs, buy one-way tickets to Thailand and spend the foreseeable future exploring the world.
Just one problem. What would we do with all of the "stuff" we'd accumulated over the years? The cars? The house?
There was only one possible answer.
Downsize our stuff. Big time.
Unfortunately, we didn't really know where to start. We scoured the internet looking for inspiration from others who might have done the same. But nothing seemed to match our circumstances. So, armed with nothing more than blind optimism and an eagerness to relieve ourselves of anything that would hold us back, we bumbled through on our own. With, of course, a mixed bag of results.
Back then, we were far too attached to our "stuff" to have the foresight to sell it all. What would happen if we hated traveling and had to return? We felt we needed a security blanket.
As it turned out, this was a very expensive security blanket.
We secured a grossly overpriced storage unit and threw everything that would fit into it. And then tried to forget about it. Which we did successfully for the first twelve months or so while we jumped with both feet into our new house-sitting, road-tripping, and backpacking lifestyle.
But then the niggle of anxiety returned in the back of our minds.
We were still paying every month to keep our belongings secure in the storage unit. Fast forward almost five years and our stuff was still there. By which time the penny had finally dropped.
We'd probably spent more on securing our belongings than what it would have cost to replace them had we ever decided to settle down again.
Suffice to say, the unit is now empty and our stuff is long gone.
What we learned about the downsizing process
1. Decide what you want your future to look like
This is probably your biggest consideration. After all, you've already decided to take the step of becoming nomadic, travelling the world and possibly caring for other people's homes and pets along the way.
Will you keep a base in your home country?
Will you buy a smaller property?
Will you sell or rent out your home?
Obviously, each of these options comes with its own set of downsizing considerations. Unless you're keeping your home intact, packing your bags and skipping happily into the sunset, all the other options involve "stuff" management.
2. Adopt an all-or-nothing mentality
Although we could have rented out our home, we quickly decided we wanted a complete lifestyle change without the pressure of ties calling us home. And quite frankly, we didn't want to deal with resolving tenant issues while we were half-way up a Patagonian mountain.
So the "For Sale" sign quickly went up and we began the protracted process of selling our property in the UK.
3. Be ruthless and allow for the emotions
You've decided what your home base (if any) will look like. Whether it's a 2-bedroom cottage, a studio flat or a corner in your friend's garage, it's time to cut your cloth accordingly.
Two words. Be ruthless.
Don't make the same mistake as us and rent a storage unit for five years. If it doesn't fit in your future space, spark a wonderful memory, or make you sad to think of parting with it… it has to go.
The crippling emotion I felt when we opened the doors to the storage unit to finally begin the last step in our downsizing journey was unbelievable.
How can "stuff" do that to you?
It's not the actual objects, but the memories. Take our 10-foot long French oak, custom made dining table, for instance. That in many ways was the focus of our home. And for the many people who'd sat around it (and occasionally danced on it) over the years at celebrations and dinner parties. But now it's just a memory. A relic of our past.
The whole process is undoubtedly an emotional roller-coaster. But, having been through it, I can say without hesitation that the sense of freedom and relief has made it all worthwhile. These objects did their jobs. They gave us plenty of joy and provided us with fond memories. But it was time to let them go and let other people enjoy them.
Practical tips to get rid of your stuff
1. Use online sites like eBay, Craigslist, Facebook marketplace and local buy-and-sell groups to get rid of items you aren't going to keep.
2. Start finding new homes for the treasured items you want to keep within your family. This is where you need to employ manipulation as a tactic! "If I die in a hurricane in the Caribbean, I want you to have my Royal Doulton 16 place dinner service...so you may as well take it for safekeeping now". This works a treat!
3. Appliances like TVs, DVD players and sound equipment quickly date as newer models come on the market. Sell them now before they become worthless.
4. Depending on your plans, line up a buyer for your car. We sold one car privately and then used an online car buying website to sell the other the day before we flew out. Although, if you're planning on returning to your home country at regular intervals, covering and parking it on a relative's driveway could be more cost-effective.
5. Stop buying more things. Often harder to do than you'd think as we've been conditioned over the years to collect more and more nice things. But our house sitting lifestyle means I now get to look at new-to-me, nice things in other people's homes, all the time!
6. Clothes and shoes take up a huge amount of space. You only have one pair of feet so why do you need 100 pairs of shoes? Simply put, you don't. The 80/20 rule put it into perspective for us. That is, a small amount (20%) of your belongings sees the majority (80%) of use. It's time to choose your favourite pieces and donate the rest to charity. No-one needs five evening gowns!
7. There are lots of books, CD, and DVD buyback schemes. Just do an internet search in your own country. Once you've downloaded the site's app, you simply scan the item's barcode and it'll tell you much they'll give you for it. If you've got a sizeable collection, that can soon add up. And then you can donate any that don't merit a valuation to charity shops, schools and/or libraries.
8. Old photograph collections can take up a huge amount of space. Borrow a scanner if you don't have one already. Make digital copies of all your photos and then dispose of your old albums. And the scanner of course if it's yours!
9. Use auction houses to sell your belongings as a last resort. You can always place a reserve on items of value and take them back if they don't sell.
Downsizing is certainly difficult. Especially as we've been programmed for years to accumulate possessions and think "bigger is better". It's a hard habit to break. But for many of us on this wonderful journey, it's a necessity.
For us, downsizing so dramatically has enabled us to continue our shared passion for traveling this beautiful world of ours and connecting with strangers who are soon to be friends.
And these days, we're proud to say, we collect friends rather than possessions.
guest post - nicky mackenzie
Nicky Mackenzie is one half of Above Us Only Skies, a world travel blog for travelers, would-be travelers and anybody else with a curious interest in ditching the routine and exploring our planet. She's been traveling since 2015 with her husband Ian, backpacking, house sitting and road tripping slowly around the world. Check out their website at AboveUsOnlySkies.com
Pin for later
Last updated on February 15th, 2021